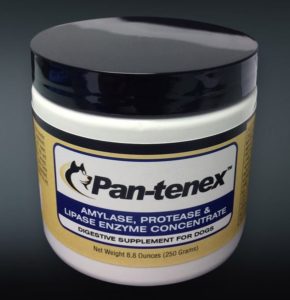 For the purpose of this reading, it is assumed that you have confirmed through a TLI blood test by your veterinarian that your dog has EPI (Exocrine Pancreatic Insufficiency).  While SID (Small Intestinal Dysbiosis) formerly known as SIBO (Small Intestinal Bacterial Overgrowth) and Vitamin B12 levels are also important topics to cover in managing EPI, this reading will focus specifically on choosing the correct strength of pancreatic enzyme for your pet.
As you are probably aware, pancreatic enzyme supplementation is the first step in stabilizing your dog and they will require these enzymes with every meal for the rest of their lives to properly manage EPI.
Plant based enzymes that advertise their products for use in EPI are simply not strong enough and may actually do more harm than good when the pet owner mistakenly purchases them and delays the introduction of needed pancreatic enzymes.
Choosing a pancreatic enzyme with the Highest Potency is very important to correctly manage EPI (Exocrine Pancreatic Insufficiency).  Many EPI pet owners are familiar with pancreatic enzymes that have a 6x or 8x potency (aka Pancreatin 6x or 8x).  However, there is a much better option available for your EPI dog.  There is a 10x potency (aka Pancreatin 10x USP) available in Pan-tenex® | Enzymes For Dogs that is much stronger and more effective than 6x or 8x enzymes.  Simply put, the 10x potency found in Pan-tenex® consistently works the best for EPI prone dogs.  Please take a moment to review our Customer Testimonials section HERE.
While online EPI dog forums can be a valuable resource, the reader should know that these sites have a hidden agenda.  In fact, all the EPI forums have a financial interest in the 6x and 8x enzymes they promote and do not tell you this.  They promote only one brand of enzymes and incorrectly tell readers that these 6x and 8x enzymes are equivalent to prescription strength products when; They Are Not!  They do not provide their readers any true enzyme options and will only recommend that you buy enzymes from one source that is promoted on their site. 
Furthermore, if you read through these EPI forums, you will note a recurring theme is that many dogs experience constant diarrhea and SIBO flare-ups or seem to have never-ending difficulties in getting better.  That is because a great number of these dogs do not become fully stabilized using 6x or 8x enzymes because these products are simply not of the correct potency to optimize digestion in EPI prone dogs.  In fact, through our customer testimonials & correspondence, we are finding that a great number of dogs do much better when they switch to Pan-tenex® (a 10x potency) from generic 6x or 8x enzymes.  It's reported their pet's stools quickly improve, they have less flare-ups, GI issues diminish significantly and they appear much healthier overall.  
The EPI forums & firms offering these 6x and 8x products never mention that there is a 10x potency available because they are unable to offer you this superior grade of product.  The 10x potency found in Pan-tenex® is the correct & preferred strength of pancreatic enzyme that consistently works the best for EPI prone dogs. Pan-tenex® is not only more potent, but is also more affordable than any 6x or 8x generic pancreatic enzyme on the market.
This superior 10x potency option is readily available to you in Pan-tenex® | Enzymes For Dogs and you need to consider this when choosing the correct pancreatic enzyme for your EPI pet.
EPI pet owners should also understand correct labeling practices for pancreatic enzymes. Correct product labeling in any pancreatic enzyme should list individual Amylase, Protease and Lipase levels (in USP Units) that are still remaining in the product at the end of a minimum two-year (or longer) shelf life.  The majority of 6x and 8x products incorrectly list a total enzyme count at the time of packaging that wrongly exaggerates the enzyme levels of their product which spreads misinformation among the EPI community.  They mislabel their 6x and 8x enzymes this way in an effort to appear equal to prescription grade products when they are not.
A 10x potency pancreatic enzyme (found in Pan-tenex®) with a two-year shelf life will list the following minimum enzyme levels:
Amylase: 460,000 USP Units
Protease: 388,000 USP Units
Lipase: 71,000 USP Units
Again, these are the minimum enzymes that are present in a 10x product after a min. two-year shelf life and represent the minimum enzyme levels needed for proper digestion in EPI pets.  A 6x or 8x generic enzyme simply is not potent enough to have these same enzyme levels present after the shelf life is complete.
Many people ask us; Can I easily switch my pet over to Pan-tenex® if I am currently using a generic 6x or 8x enzyme?  The simple answer is yes and Pan-tenex® is actually more effective and more affordable than any 6x or 8x product on the market!  Many pet owners find the transition easy by using the minimum dose of 1/2 teaspoon listed on our jar and adjusting it from there.  Within 24-36 hours you pet's stools should provide you with a good indication as to whether this dose is optimal.  Just be sure to mix the enzymes with moistened pet food at every meal as you have done in the past and let the food sit at room temperature for at least 15 mins before feeding.  Remember, smaller more frequent feedings of at least 3 meals per day (each containing Pan-tenex®) are usually best.
Because Pan-tenex® is a stronger product, many customers are also finding they can sometimes use less enzymes once their dog is stabilized which makes Pan-tenex® even more affordable when compared to more expensive (and less potent) 6x and 8x generic enzymes.
When purchasing any supplement for your pet, it is important to choose products that are professionally manufactured & managed by real firms that have the industry experience necessary to ensure a quality product.  At the end of the day, your EPI dog deserves the best product available.
Do your current 6x or 8x generic enzymes have unprofessional looking labels and packaging?  Under what conditions are these firms making and packaging their enzyme products?  Are they a professional organization with actual quality control behind their product?  Ask them questions!
Correct labeling and packaging is a very good indicator of any product's inherent quality.  If the labeling or packaging of your 6x or 8x pancreatic enzyme looks cut-rate (cheap), then you should be very concerned about its quality regardless of what you read on an internet forum.  By nature, enzymes are very sensitive to light and moisture so the product should be packaged in an opaque jar (impervious to light) with rugged construction for being resistant to moisture.  Anything less than this is typically a good indication that the product is unprofessional at best.
Choosing a pancreatic enzyme that is manufactured and packaged under certified GMP (Good Manufacturing Practices) is also very important.  Only products that are manufactured under GMP can be of the highest quality for your pet.  Does your current 6x or 8x enzyme product freely tell you that they adhere to certified GMP in both their manufacturing & packaging processes?  
Pan-tenex® is both manufactured and packaged under certified GMP (Good Manufacturing Practices) compliant facilities.  Further, enzyme levels in every batch manufactured are verified by Independent Laboratory Testing.  Only the highest-quality, food-grade enzymes are used in the production of Pan-tenex®.
Pan-tenex® is also Acetone-Free.  Some 6x or 8x enzymes may contain a fowl or pungent odor.  This is because the enzymes in their product may have been manufactured using Acetone during the extraction process.  Not only can this odor be offensive, but many pets do not accept the product once it is mixed into their food.
Pan-tenex® is also Dust-Free.  This prevents the product from becoming excessively air-borne upon removing it from the container.  This can be a major inconvenience experienced with lesser 6x and 8x products.
The management team behind Pan-tenex® has over 30 years of experience in the animal supplement industry.  Our primary goal is to empower the consumer by offering innovative products of the highest quality, yet affordable enough to assist them in providing proper care to their pets.
Pan-tenex® | Enzymes For Dogs – Leading Product Attributes:
• Highest Potency – 10x Porcine Pancreatic Enzyme Powder
• Produced & Packaged In GMP Compliant Facilities
• Acetone-Free / Dust-Free Formulation
• Enzyme Potency Verified By Independent Laboratory Testing
• Compares To All Major Brands
We are confident that your pet will respond well to Pan-tenex® and invite you to please review our Customer Testimonials section.
Thank you for taking the time to read our latest blog post!