Have a look at what our satisfied customers are saying about Pan-tenex!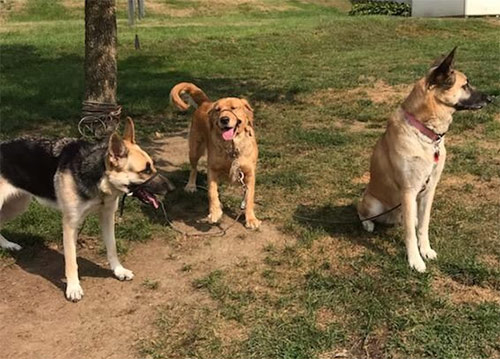 Ellie
"I just want to take a few minutes to thank you Pan-tenex for saving my Ellie's life. She had been having diarrhea for months. I took her to the vet multiple times and he did scores of tests that all came back negative. I sought advice from dozens of people who's "cures" temporarily altered her problem but did not fix it. Finally when she was so weak and scrawny that she yelped when we tried to comfort her, I had the talk with my family about putting her down because she was suffering. I called my vet to make the arrangements and an awesome young girl told me about your product. I swear from the first dose she hasn't had diarrhea since and is packing on weight like crazy. I thank you and Ellie thanks you. Ellie is the smaller Shepherd on the left."
Sherry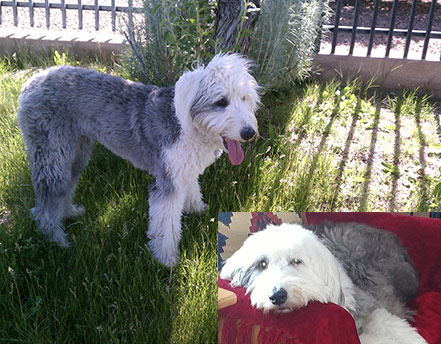 Zoe
"Zoe started eating foreign objects outside such as rocks, etc. She had massive amounts of soft stool. She was losing a lot of weight even though she was eating her normal food. After surgery to retrieve the rocks and antibiotics we finally got a diagnosis of EPI. My vet put her on pancreatic enzymes which did the trick! She told me to go online and buy them, that they would be cheaper that way especially since she will have to be on them for life! I found Pan-tenex and they have worked beautifully! Also very reasonable! They are delivered quickly and on time. Try them for sure!"
Ellen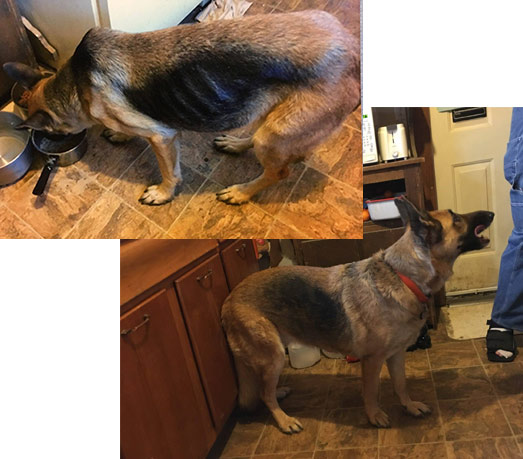 Prim
"We adopted Prim as a private rescue. We assumed the previous owners were just not feeding her. After we got her to our house and found she was eating every thing in her reach and not gaining weight we took her to our Vet. A few visits and a few tests later we learned she had EPI (Exocrine Pancreatic Insufficiency). We tried other brands but Pan-tenex seems to work the best and is not as costly. She is happy, active and now good natured. Although she has a good appetite she no longer pulls food off the shelf to eat it."
David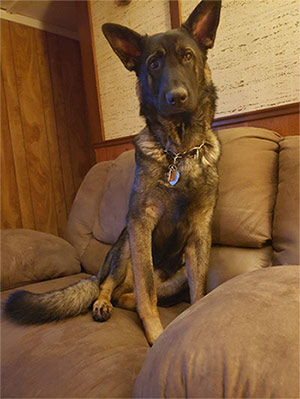 Drako
"This is my German Shepherd, Drako who has EPI (Exocrine Pancreatic Insufficiency). After switching from prescription enzymes due to cost, I tried other enzymes which he would not eat. Then I found Pan-tenex and the difference was immediate. He started eating, putting on weight and is now maintaining a good, healthy weight. Pan-tenex saved my boy."
Shawn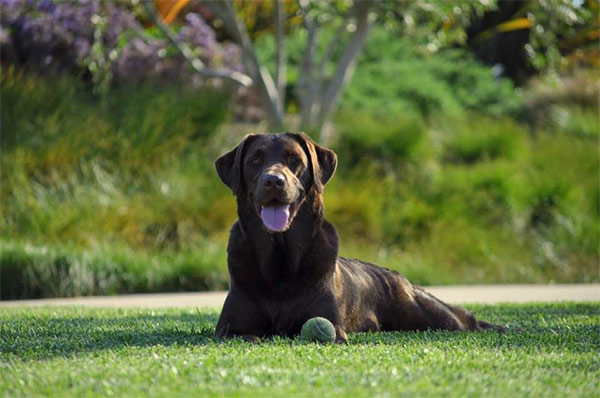 Guinness
"Our now 9 year old Chocolate Lab, "Guinness," started to lose a tremendous amount of weight about six months ago. He dropped from a healthy, muscular 82 lbs to 71 lbs over a period of two weeks. There were no signs initially of any digestive distress, so our Vet was perplexed. Soon after, he started having horrible, yellow, smelly, mushy stools – and then he went off his food entirely. Before we knew it, he was skin and bones, and it looked like he was dying right in front of us.  Everything snowballed from there. He was weak, could barely walk at times, his coat was dull and falling out – it was horrible. After more X-rays and ultrasounds, the consensus was either cancer of the gut, pancreatitis, or IBD. He was put on several antibiotics and prednisone for weeks. He improved slightly, but the drugs were having a horrible effect on his overall health. A heart murmur developed out of nowhere, and he started coughing – and the Vet was worried about congestive heart failure. We were out of our minds trying to help our poor, formerly healthy dog!! We decided to make radical changes to his diet and get him off ALL the drugs. Then, after doing a ton of research, stumbled upon pancreatic enzymes for dogs with pancreatitis or EPI. We figured, "what have we got to lose?" Our dog is dying in front of our eyes, and our Vet keeps prescribing a low fat diet that isn't working and more steroids. We first tried some supplements I found at a local store, and they helped slightly. We then found Pan-tenex, read all the info we could find, and then called and talked to the owner. After 30 minutes on the phone getting all our questions answered, we ordered a jar. All we can say is, after only three days, Guinness started to show signs of improvement!. His horrible, yellow stools started to look normal again. His energy level began to increase! We then switched him to a raw diet, and the combination of raw with Pan-tenex has restored our dog's health! His weight is now 80 lbs and his coat is shiny. His allergies have also disappeared! Needless to say, we are THRILLED he's now off ALL the drugs, and he's thriving on his new diet and Pan-tenex! We will stay on course and hope he continues to return to the boy we thought we'd never see again."
Michael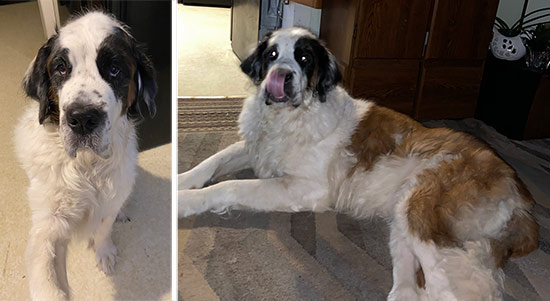 Bella
"Bella was having digestive issues. Her food was going right through her. She was skin and bones and her fur was falling out in gobs. I tried other things but nothing was working, not even the vets product. Luckily I found Pantenex. It saved her life. Vets should carry this product if they don't already. Thank you Pan-tenex."
Carrie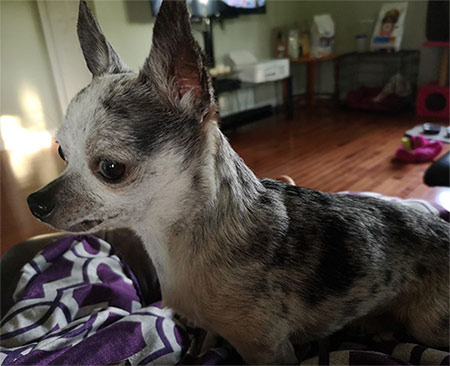 Chico
"Absolutely 110% satisfied with this product!! Chico, a Chihuahua aged 7, starting losing weight in early February. After countless blood tests, changing his food, de worming and trying supplements he continued to lose weight. Finally a blood test for his pancreas revealed EPI. The vet prescribed enzymes and vitamin b12 shots, after being on the enzymes for 2 months (he was now down to 4.4 pounds, a total of 2.2 pounds lost) still no results. He was still pooping at least 10x a day, hungry every 2-3 hours and not gaining any weight. I happened to stumble across an add on Facebook for Pan-tenex and decided to order it. After 3 weeks of being on them he has put on 1.3 pounds! His energy is back and he is back to his normal self! So unbelievably great full to have found this product, I think we would have lost him if not for Pan-tenex! Thank you, thank you, thank you!!!!"
Jayme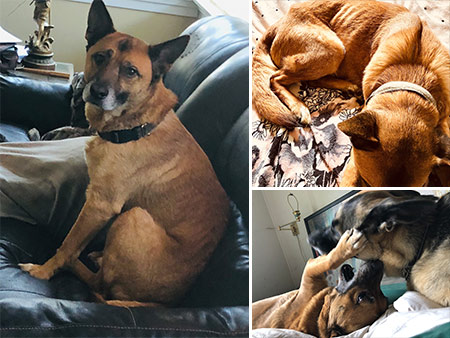 Rascal
"EPI is scary! My boy Rascal lost 20 lbs and had loose stool for 3 months!! Finally tested for EPI! Positive! Researched many enzymes but yours stood out! After 1 month most weight is back, stool is perfect and he's playing with his BFF again! So stoked! Thanks sooo much for an excellent product at a reasonable price! Yay!!"
Linda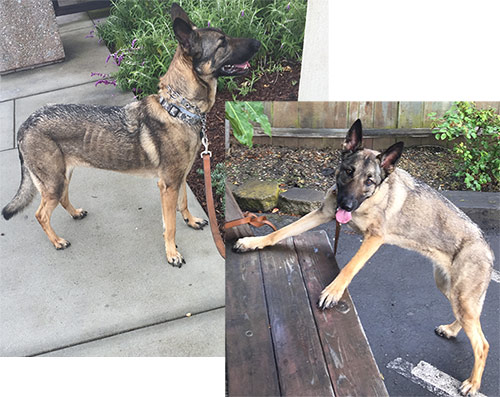 Hazel
"Hello this is Hazel, before & after.  She is a  four-year-old GSD.  When Hazel started losing weight we didn't know what to do, we knew she was too young to have any serious problems.  When we took her to the vet, the first set of tests came back normal but the Vet thought she might have EPI.  When I went to your website and read and looked at the testimonials, I knew this is what she had even before the test came back.  She had all of the symptoms that an EPI dog could have.  At first, I tried the Rx enzymes that the vet prescribed and they smelled like medicine and We were not getting any results.  After about a month on the Rx enzymes, I switched to Pan-Tenex which I noticed an immediate improvement and at a price that I can afford.  It has been three months and I now have my happy and healthy dog back.  Thank you Pan-tenex for saving the life of my dog and many others.  I am forever grateful to your company and your passion to help sick animals get better."
Joy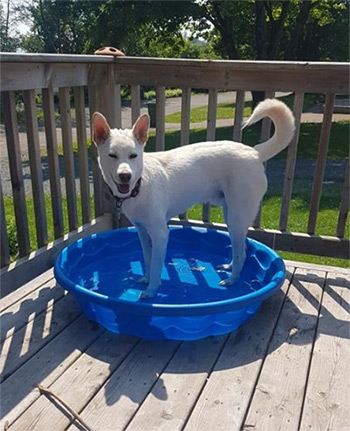 Bodhi
"Bodhi is a Korean Jindo/Husky mix that was destined for the Dog Meat Trade in Korea. We rescued him with help from a great organization named of Marley's Hope in Nova Scotia, Canada. He was 8 weeks old when he became part of our family. The first few months, Bodhi was happy and healthy and was a delight to come home to. At around 6 months old, we started noticing that Bodhi was having more frequent and liquid poops. He started losing weight quickly and the Vet just kept telling us to try a different diet. Finally, after many visits to the Vet, he lost 11 pounds in just over a month and we tried another Vet, who knew almost immediately that is was EPI (Exocrine Pancreatic Insufficiency) as he was down to ribs and hip bones. She started him on an Rx brand of enzymes, which was not a cheap product, but it worked immediately. After some research, I found Pan-tenex and ordered some and it works just as well at a much cheaper price. He is now back to his happy and healthy self!"
Ryan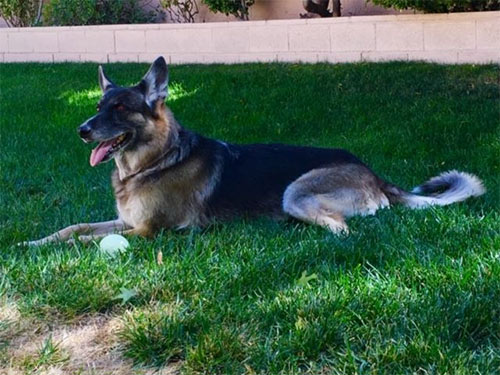 Justice
"Justice was diagnosed with EPI in 2012 after dropping 25 lbs.  She had been on enzyme supplements since then, however the product which she was using went out of business.  Not able to get what she needed, I was forced to find another enzyme product.  After trying a few different products that Justice didn't like, she started to lose weight again.  Finally came across Pan-tenex and tried it for the first time in Sep 2019.  Since then Justice has been putting on weight.  Fortunately, I was on top of the situation quickly to avoid a large weight loss.  She is happy, barking, playing and doing all the things she is used to be doing at age 9.  I am thankful to have found Pan-tenex to help Justice live a longer life as a Therapy Dog."
KJ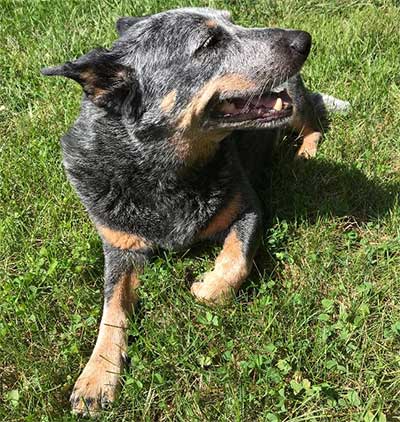 River
"River, our 8 year old blue-heeler had non-stop diarrhea and lost 15 pounds.  Ultimately she was diagnosed with EPI.  She is on Pan-tenex and doing well.  Her initial prescription was very expensive.  Pan-tenex is an identical assay to the prescription and considerably less costly.  She does well on a scant teaspoon with each feeding.  Good product, attentive service.  We have suggested it to friends and they are delighted as well."
John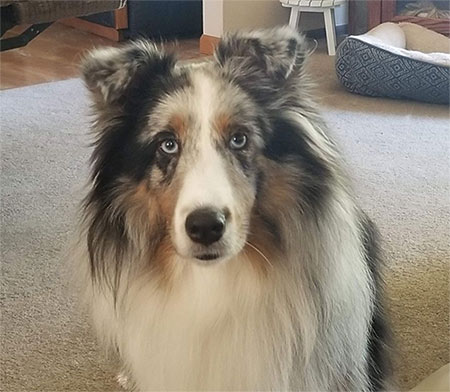 Ilze
"This is Ilze our blue merle Shetland Sheepdog. She was diagnosed in March of this year. She had lost 6 lbs, which is a lot for a sheltie. Our vet specifically wanted her on Rx enzymes. Yup and they worked like magic, and our girl bounced back immediately. The extremely high cost though was a blow with each order when you're both retired. I hesitantly ordered Pan-tenex, but we incorporated it into her regime and it works wonderful!! You have to try this stuff! It arrived quickly and I loved the measuring spoon it's so handy! We're Pan-tenex believers!!!"
Cheri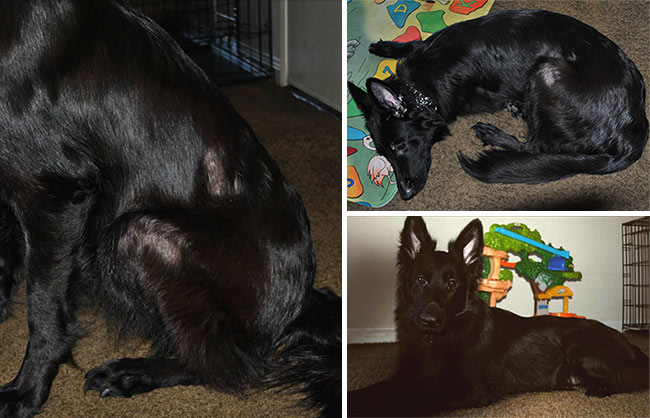 Millie
"Less than a year ago my dog started losing weight, losing fur, and her stools were yellow-like straight diarrhea. My husband and I didn't know what was wrong until about 4 months ago, that is when our dog Millie started her "EPI Journey." We started her on Pan-tenex, it's simple to order and gets shipped out pretty quick. Millie consumes it with her food easily, her stools improved within the first 3 days of using it! Her fur and her weight are also improving slowly, but surely! We are very satisfied with this product and with the service of this company. Pan-tenex are the right enzymes for our EPI dog. Thank you!"
Maraya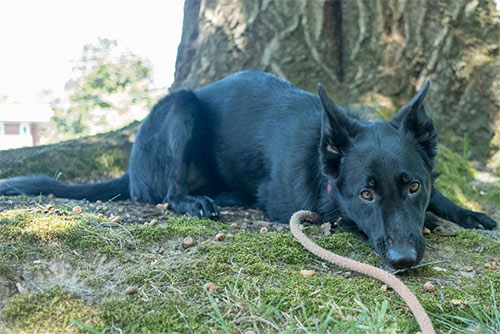 Raven
"Raven was diagnosed with EPI at 8 months of age. Shortly after starting her on prescription enzymes, I had difficulty getting a prescription refilled. I was panicking that I would run out of enzymes. I had previously been aware of Pan-tenex and gave them a call to see if I could have them sent as a rush order. They were able to ship out immediately, sent them as expedited shipping at no extra charge. They also gave me tips on how to transition to Pan-tenex. It was such a relief, as I know anyone who has a pet with this disorder understands how difficult it was when their pet was first diagnosed. I have since transitioned to Pan-tenex and Raven is thriving. She has gained from a low of 41 pounds to about 62 pounds currently. It is also saving me a significant amount – at least 50% less than the prescription enzymes. Thanks so much for helping my sweet dog!"
Elizabeth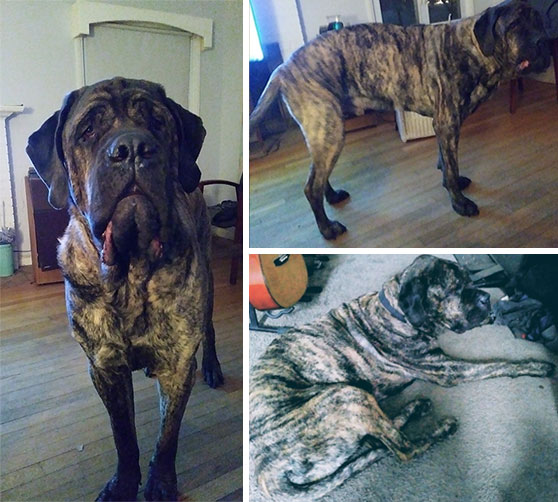 Zeus
"Hi, my boy's name is Zeus and he has EPI (Exocrine Pancreatic Insufficiency). We've been using Pan-tenex for over a year with great success. Everything was going great, until he stopped gaining weight. One day I had trouble with their website & the owner of the company actually called to help me. We talked and decided we had to increase the dose a little bit. Now Zeus is putting the weight on again. How often will the owner of a company take the time to call!! Thanks Pan-tenex. I'm a customer for life!"
Bill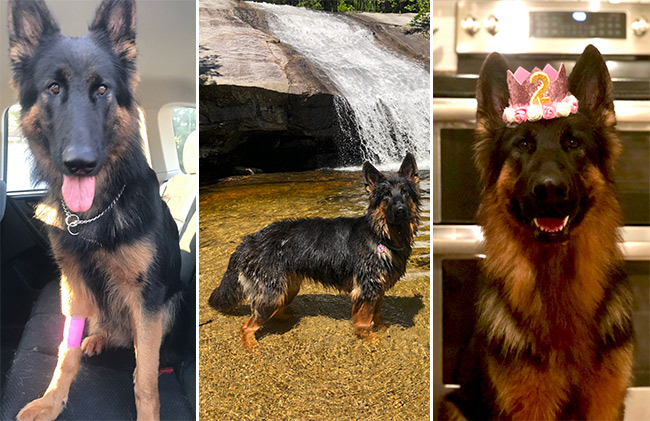 Raven
"This product saved my dog's life. Without Pan-tenex we wouldn't have been able to celebrate Ravens second birthday this past week. Raven, my beautiful long haired shepherd was dwindling away and our vet had little to no answers to offer. After doing research on my own, I requested to test for EPI. Just before her first birthday she was officially diagnosed. Pan-tenex is the only enzyme product I will ever use. The first photo was taken in August 2018 the day she was diagnosed at a very scary 49 pounds. The second and third photos are from August 2019 at a plump 75 pounds. All the thank you's in the world will never be enough. Pan-tenex will allow Raven to taunt chipmunks and chase balls for years to come."
Raven and family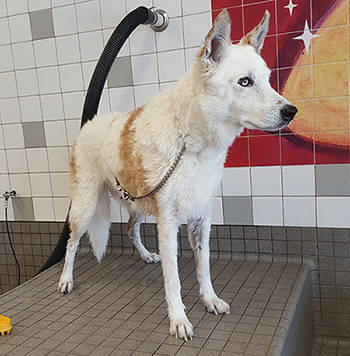 Kiva – 4 Year Update
"Kiva has been with us for several years.  She is a true rescue and will be 11 on Halloween this year.  She has been using Pan-tenex for years now with great success.  She's healthy, happy, and meets every day with excitement for her daily walk.  Last Monday, she had a spa day.  Picture uploaded."
Bill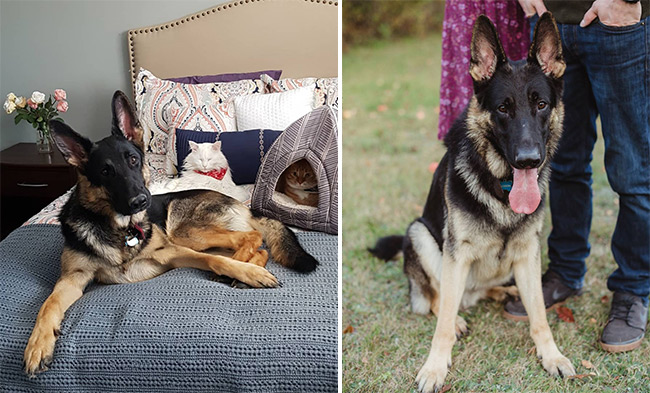 Jackson
"I would like you to meet Jackson, our three year old  German Shepherd who was diagnosed with EPI (Exocrine Pancreatic Insufficiency) at an early age. He requires a high dose of enzymes with each meal to keep his condition under control. This was very costly in the early stages of diagnosis, as we had tried the enzymes sold our vet, and Jackson was losing more weight. Once we discovered Pan-tenex and placed our first order, we noticed a difference right away. It was more powerful, resulting in a happier and healthier pup. He quickly gained 20 lbs and is now a steady and healthy weight. He loves his adventures and other fur siblings. Thank you Pan-tenex."
Melanie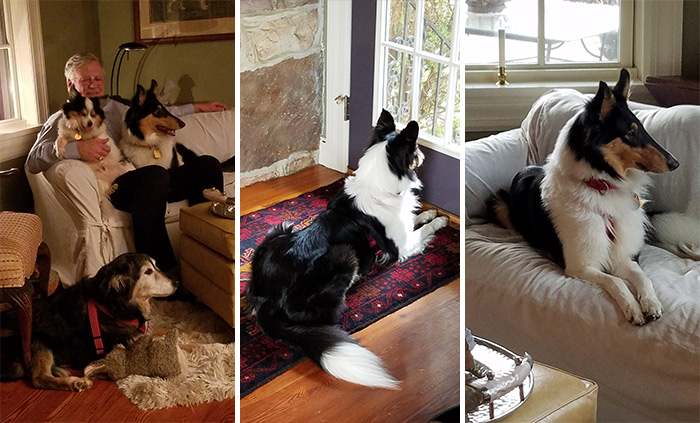 Piper
"Your product is a true life saver at a reasonable cost!!   My lovely rescue collie, Piper, was down to 31 lbs with late diagnosed EPI (Exocrine Pancreatic Insufficiency), but the disease was caught in time.  I started with prescription enzymes and she improved, but was stuck at 38 lbs.  But when I shifted to Pan-tenex, the improvement was exponential:  She's at 44 lbs, her muscle is definitively better, her coat is gorgeous and lengthening, her strength is full tilt (she can run endlessly) and her attention span is better. I rarely post an endorsement, but your product deserves the highest praise I can muster."
Julia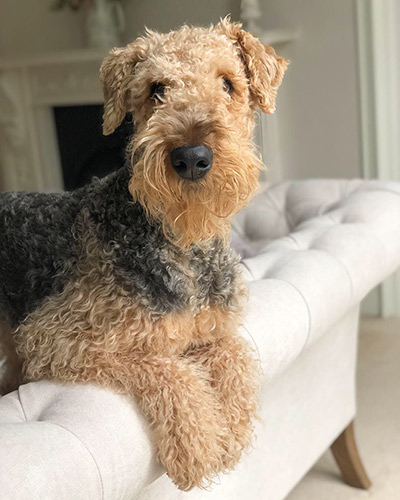 Brian
"Brian, my wonderful Airedale Terrier was diagnosed with EPI at the age of 4. It took a whole year to find the right enzymes, supplements and diet to stabilize his condition. I tried him on a number of different enzymes and even switched him to a raw diet – nothing helped. Until I tried Pan-tenex – which worked straight away. Firm stools, ravenous appetite all started to go away and he started to gain some weight. Brian is now the most energetic I've known him to be. It's makes my heart full seeing him so healthy again. I live in the UK, and Pan-tenex is free shipping without any customs charges either. I would never try anything else for my boy. Thank you for saving him."
Donya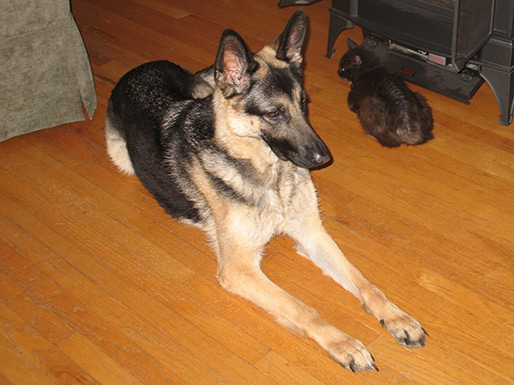 Maya
"I've been using Pan-tenex for two months now and my German Shepherd, Maya (10 years old) is doing better than ever.  This is a GREAT PRODUCT, AT A TERRIFIC PRICE, WITH EXCELLENT DELIVERY SERVICE!!!  I can't say it loud enough because it works every bit as well as the 12 oz. prescription drug with the same ingredients but priced at a hefty $189 per 12 oz. container. To Joe and the fine people at Pan-tenex…  Thank you so very much for being there.  And thank you also for your great service…  I ordered my first jar on a Monday afternoon and it was delivered to my box on Wednesday morning.  And with free shipping, that's just a great deal and an excellent value.  Thanks again!! Now I only wish I had found out about this product about 10 years ago."
Anthony
Zoso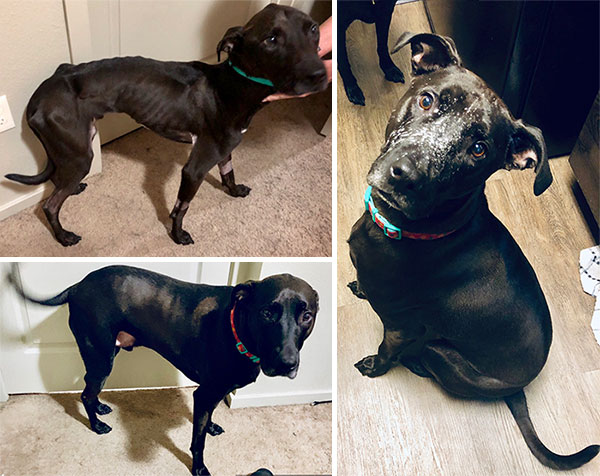 "Our boy Zoso has had EPI since he was a puppy.  These are before & after pics.  He has always been skin and bones even though we would feed him at least 8 cups of food a day.  We took him to multiple vets and had multiple tests done with no conclusion.  All of the doctors had decided that he was just mixed with Grey Hound considering how active and energetic he was – they really didn't think anything was wrong.  He never acted sick but he continued to lose weight and you could feel and see every bone in his body.  People would constantly come up to us to talk about how sick he looked and even asked if he was a rescue or a parvo puppy.  We increased his food, tried every way possible to get him to gain weight, and took him to other veterinarians; but it was all the same conclusion.  He started hating to be cuddled, he had to wear a jacket at all times because he didn't have his own fat to keep him warm, and he just kept getting skinnier.  We felt so helpless.  Then, a week after his 4th Birthday in August, there was an unrelated incident that resulted in him being hospitalized for 4 days.  But thankfully the doctor that treated Zoso there discussed the possibility of EPI with us and wanted to put him on medication right away.  The prescription was going to cost us $300-$500 a month. We did some research online and found Pan-tenex and the concentration amount was 4x higher.  After being on Pan-tenex for 6 months, Zoso has gained over 35 lbs and he is a completely different dog!  You can now see he is a healthy Labrador/Pitt Bull mix! He loves being cuddled, he's more playful than before, and his personality is truly finally coming out. Pan-tenex saved his life and we couldn't be more grateful. Thank you so much."
Danika & Jacob
Sadie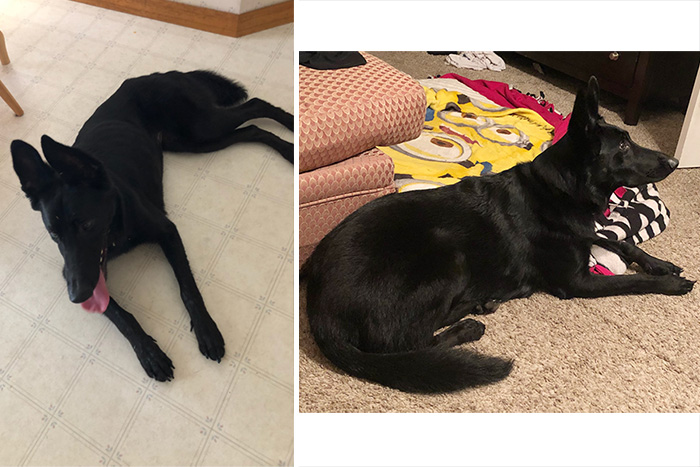 "Sadie is my "grand dog" and she is doing so well now (knock on wood!) that I have been able to drop her Pan-tenex order down to 1 jar a month. We really thought we were going to lose her. She was down to 50 lbs, couldn't keep any food in and was miserable, itchy, jumpy and a nervous wreck all the time.
The vet was at a loss, other than to confirm the diagnosis of EPI and suggest expensive powdered supplements with no instructions on the disease or how to use the supplements.
We finally decided to research the disease further for ourselves. Not only was the Pan-tenex website so very helpful with the forums and instructions on specifically how and why to use these enzymes, we did not feel so alone and lost anymore.
Her improvement was almost immediate. Within 3 months, she was back to 70 lbs and the vet even said to start watching her weight! Sadie is now the happiest dog ever. Plays hard and sleeps hard!
Thank you!"
Robin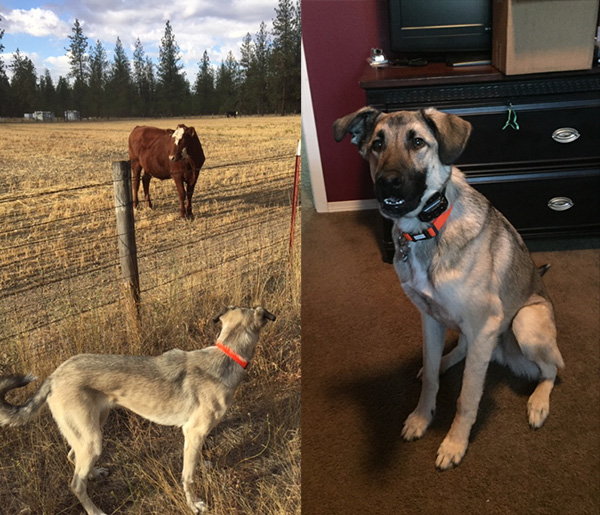 Diesel
"This is Diesel before & after. He's a 1 year old German Sheppard Mix was diagnosed with EPI at approximately 8 months old. He had the typical symptoms of EPI and was underweight and skinny. After diagnosis Diesel was placed on enzymes recommended by our Vet with little improvement to his stool and weight regardless of the dosage. We also tried other enzymes available on the market with little improvement. We finally tried Pan-tenex and saw great improvement with Diesels stool, appetite and weight. Along with a daily dose of B-12 supplement once a day, He is now back to being a high energy every human loving animal. Thank you to Pan-tenex for making an affordable product that works well and makes taking care of our beloved K9 easy."
Kevin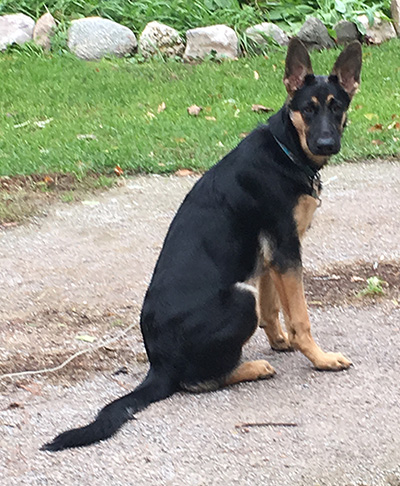 Twiggy
"Twiggy was diagnosed with EPI at 4 months and started on prescription enzymes which she HATED! Every meal was a battle. Researched other enzymes and decided to try Pan-tenex. Wow, what a difference! She doesn't hesitate to eat and the product doesn't affect my asthma like the other one. Twiggy has gained almost 10 lbs since starting in October, stools are great and she is not "starving" anymore. We are so pleased. In fact, we are so impressed that we just adopted another EPI dog and can't wait to see it help her. Great product, good price and amazing customer service!"
Denise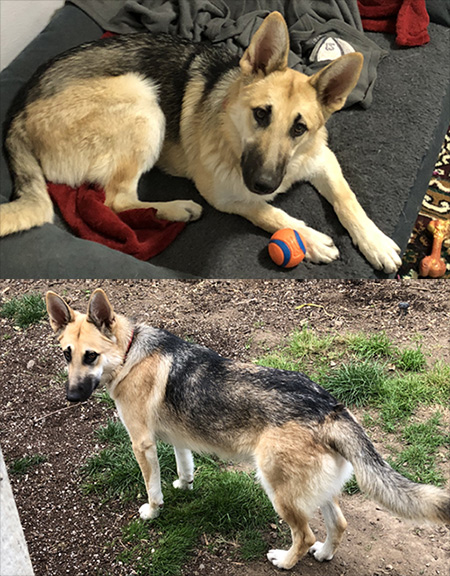 Luna
"Luna was a rescue pup. She was about the same size as her litter mates. Shortly after bringing her home she developed really stinky diarrhea. I also noticed that she wasn't growing at the rate she should have been. I took her to the vet and Luna was diagnosed with EPI. I did a lot of research and decided that Pan-tenex might do the trick. Sure enough Luna went from gaining 4 lbs a week to 8 lbs a week. She is a year old now, weighs 58 lbs and is doing great. She is a huge part of our family and if it wasn't for Pan-tenex she would have eventually died."
Laura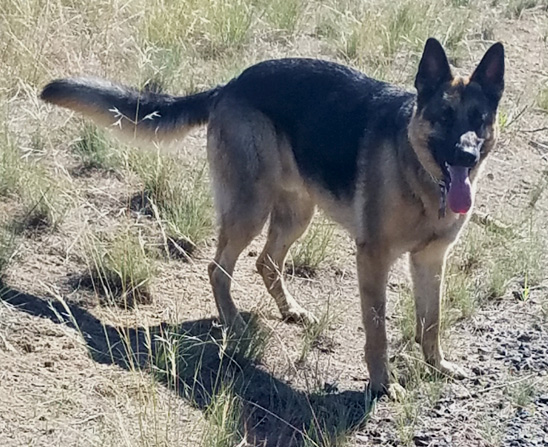 Koda
"Pan-tenex saved our dog's life! Koda was 2 yrs old when he was diagnosed with EPI. He had dropped so much weight that we were scared of losing him. We were told that we had to buy a expensive prescription enzyme to put on his food daily. After doing some online research we found Pan-tenex, which was a lot more affordable. It's the first and only enzymes we have used and it began working immediately. Our Koda was no longer starving and putting weight back on. Our vet was impressed with Pan-tenex. Their online support has been excellent and we will be forever grateful for Pan-tenex for giving us our happy pup back!"
Jessica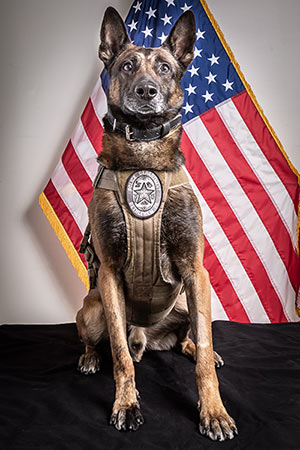 Hix
"K-9 Hix has been taking Pan-tenex for the last few years to treat his EPI (Exocrine Pancreatic Insufficiency) and it has become a crucial part of keeping him fit for duty. He always comes running when he hears us stirring his "Hix Mix" each meal!"
Tom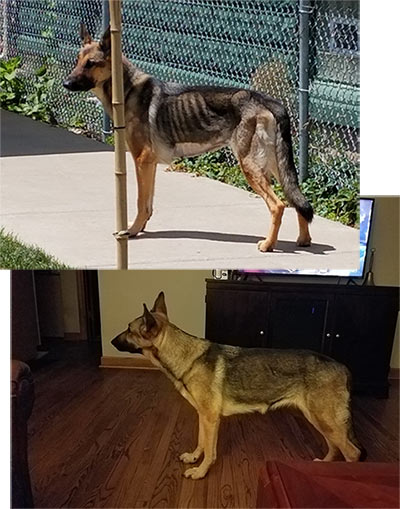 Kaos
"This is Kaos before & after. After a rough year for my pup being poisoned and health issues with EPI (Exocrine Pancreatic Insufficiency) she has made a great comeback. Thankfully I found your site and Pan-tenex. She has gone from 53 lbs to 74 lbs in 3 months. Her fur is healthier, she is back to being her goofy self and her health is now better than ever in her 6 years. Now she cannot wait to eat & her stools are back to normal. This is the best turnaround I could hope for because of Pan-tenex and Merrick food I now feed her. Thank you for saving my girl's life."
Cheri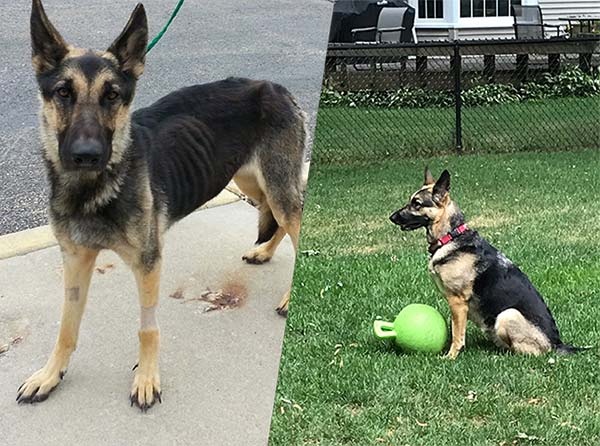 Molly
"Molly before and after. I tried other enzymes for her EPI (Exocrine Pancreatic Insufficiency), but she continued to have occasional problems. We switched to Pan-tenex last year and she has thrived since then. Even her stool volume has decreased (more food digested). Molly and I are very happy we made the switch to Pan-tenex and we won't use anything else in the future!"
Cheri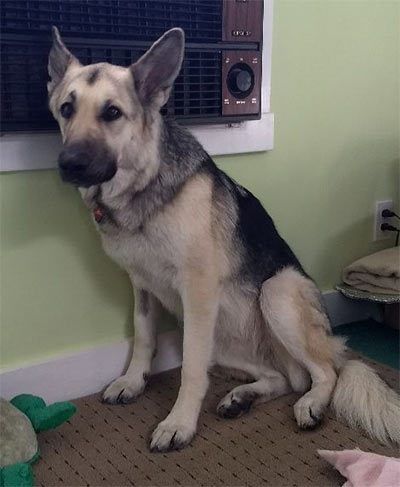 Penny
"To the folks at Pan-tenex and my fellow dog owners, Recently my 2yr old GSD, PENNY was diagnosed with EPI (Exocrine Pancreatic Insufficiency) from the wonderful people at Woodlawn Vet. The treatment cost was so much that it prompted a search for a similar product, thus, Pantenex.
The product arrived before expected and the results have been incredible (solid stools, and 7 lbs gained in 11/2 weeks!). More importantly, Pan-tenex is affordable allowing me the chance to keep Penny happy and healthy! Thank you!"
V. Romero
Eddy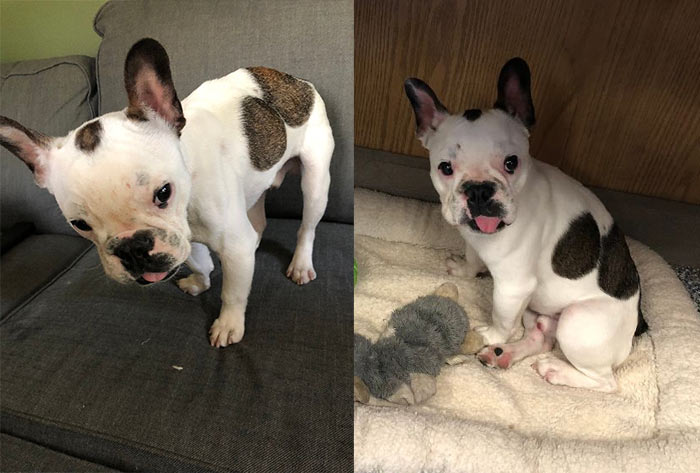 "Eddy is a special needs French Bulldog that was surrendered to our organization around 3 months due to (among other issues) the chronic GI issues he'd experienced since birth. He was not growing or gaining weight properly and had daily episodes of vomiting and diarrhea. Around 8 months old- Eddy took a turn for the worst. He began having recurrent pancreatitis and needed to be hospitalized. His care team was able to get him stabilized but the long term prognosis was not good. At discharge we were advised to try to make his life as comfortable as possible and that he was unlikely to make it past age 1. However, one doctor mentioned trying pancreatic enzymes as a last resort to help manage his pancreatitis and GI issues.
I was cautiously optimistic as I ordered Pan-tenex that night. My order arrived quickly and I began using the enzymes on Eddy's meals immediately. The results have been AMAZING. Within weeks Eddy stopped vomiting, next his stools became firm up, and slowly he began gaining weight. Eddy has been using Pan-tenex for almost 3 months now and his doctors say his GI issues are in remission. He has gained almost 10 lbs and has more energy than ever! He will be celebrating his first birthday in two weeks and is showing no signs of slowing down. Thank you Pan-tenex for providing quality enzymes at an affordable price."
Kelsey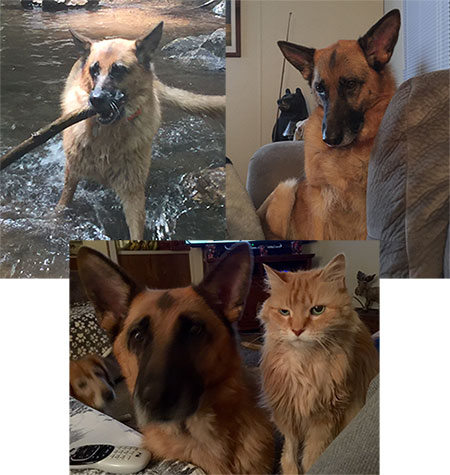 Willow
"Pan-tenex is the best!!! It helped Willow our German Shepherd stop eating poo, and her cobalamin levels are back to normal. She is out of starvation mode from EPI (Exocrine Pancreatic Insufficiency) and back to normal!!! Pan-tenex customer service is phenomenal, their orders ship immediately and always arrive on time. If you want the best available this is it. It's so great to not have her not eating poop any longer, thank you Pan-tenex!!!"
Carol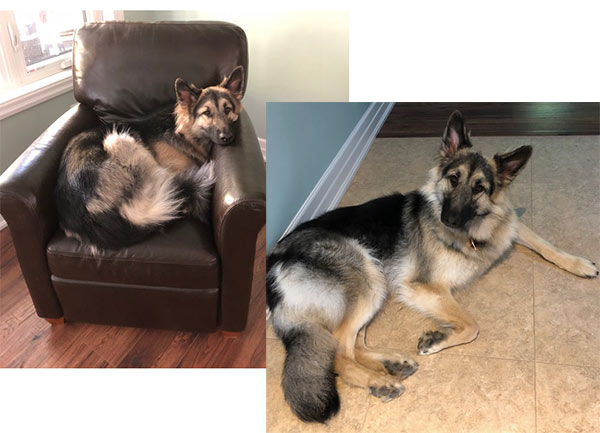 Maddie
"Since we started using Pan-tenex our dog has become her old self again. She had lost over 15 lbs, her coat was dull and falling out and she had no energy which is very bad considering she is a one year old Shiloh Sheppard. She has gained most of her weight back and her coat is nice and shiny. Her energy levels are great again and her stool is firm and dark again instead of runny and yellow from EPI (Exocrine Pancreatic Insufficiency). Thank you Pan-tenex for developing this fantastic product."
Geoff

Sadie Bug
"This is Sadie Bug, she's an American Pitbull that I've raised from a puppy. When she was about a year old I just about lost her, as she lost a tremendous amount of weight when she was diagnosed with EPI (Exocrine Pancreatic Insufficiency). The vet bills almost broke me and the meds were unreally expensive. I didn't think I would be able to keep her, but there was no way that I was putting her down. Then I found Pan-tenex and it saved my dog's life! Thank you Pan-tenex so much, this stuff really works and it doesn't break you! Very good product at a very good price!"
Brian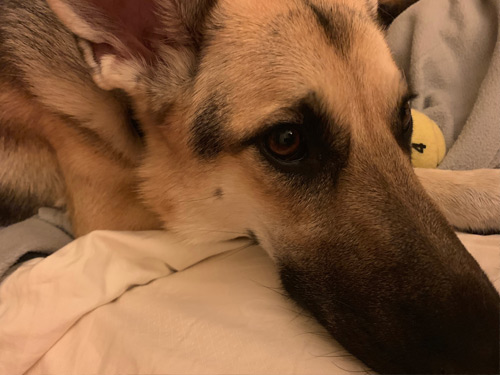 Jazz
"Meet Jazz, who is missing her human Mom in this photo. Jazz is an incredibly affectionate and happy German Shepherd, not to mention playful to the point of exhaustion (mine, not hers!). I think back on how she was wasting away at the age of nine months from EPI until we finally found a competent vet and then Pan-tenex which I also told our vet about so she could start recommending it instead of the grossly over-priced prescription version. Not only does Pan-tenex work, but the people behind it have been super-responsive whenever I've had questions or concerns. They obviously love dogs as much as my wife and I do. Just a great company!"
Christopher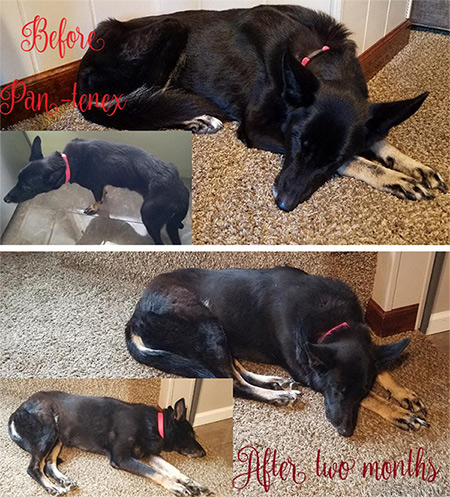 Ivy
"This is Ivy, my 11 year old German Shepherd before & after she was diagnosed with EPI (Exocrine Pancreatic Insufficiency) when she was just three years old. Nothing from the vet ever worked. I could see her withering away to nothing, and I almost put her down a few months ago. She was just so weak, and starving. But I looked in her eyes and knew she still had fight left in her. I wasn't ready to say goodbye. I did extensive research on the disease and different medications, and found you guys. I have been using Pan-tenex for almost three months now, and I cannot express how happy I am with the results. Ivy has gained 24 pounds! Her spirits are high, and she has more energy. I have my girl back. Now as I write this, my tears are happy ones. I am so thankful for your product."
Stephanie

Oso
"Hello from Puerto Rico!! This is Oso, Spanish for Bear, he is a 4 year old mixed breed that we rescued from the side of the highway in the mountains when he was a puppy. He started demonstrating the signs of EPI, but it was 4 months before we got a diagnosis. By then, he had lost 25% of his weight and attacked my Min Pin. He was started on a prescription enzyme. He stopped losing weight and even gained a little, but his stool consistency was hit and miss. I had heard of Pan-tenex when my vet had alluded to it in the beginning, but she didn't know the name. I discovered the website and was pleased to see how much cheaper it was than the prescription enzymes. It is sometimes difficult to get products shipped to Puerto Rico. However, thanks to excellent customer service, I was able to acquire my first order. Fast Forward to one month later. Oso has made very substantial weight gain, he is close to his original weight. His stools are consistently firm. Furthermore, he is back to sweet self and not aggressive as all. He is very protective of my Min Pin. He even has regained his energy and plays with our 11 month old mixed breed puppy that we found in the middle of a highway. I recommend Pan-tenex to everyone. It has allowed Oso to THRIVE."
Theodore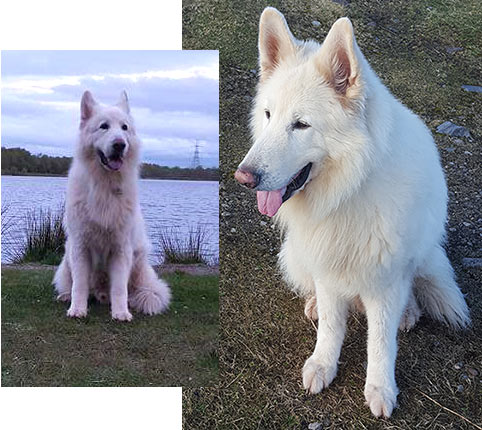 Zak
"My big boy Zak, has had EPI (Exocrine Pancreatic Insufficiency) for 7 years.   We got it under control quickly in the beginning and he's been fine for years.  However last year, the EPI suddenly seemed to flare up again.  My vet carried out lots of tests but nothing flagged up.  I have tried numerous high strength enzymes made in the UK. However, none of them seemed to be able to get the EPI under control. I came across Pan-tenex by accident and am very glad I did.  After the first week on Pan-tenex things are looking much better.  He's looking fit and well and also seems to be putting on weight.  I'm very happy to have come across this product. Unlike other enzymes there is absolutely no smell from this product at all. Very happy and thank you."
Lorna
Mooshnini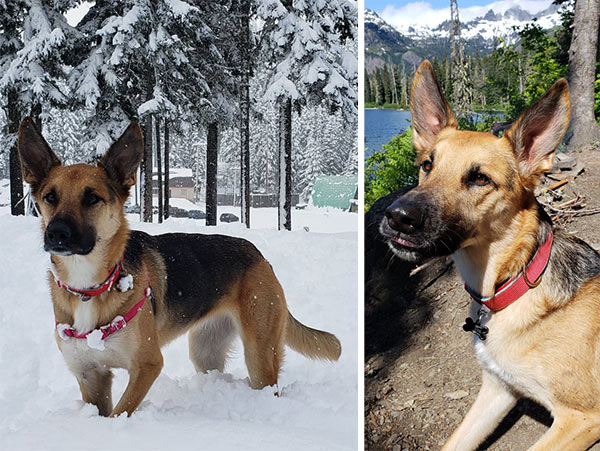 "Our Gerberian Shepsky, Mooshnini, had just turned 3 years old when she had started showing signs of EPI. After the vet had ruled out a couple of other possibilities of what could be causing her to have diarrhea and losing weight they drew her blood and determined it was EPI (Exocrine Pancreatic Insufficiency). By this point our already very slim dog had lost 15 lbs. The vet prescribed us an enzyme that would help her but it wasn't cheap at $200 for an 8 oz bottle. I started doing some research and looking for another product that would work just as well but at a more affordable price and that is when I found Pan-tenex. It's a 1/4 of the price and is the same product! This product is the best on the market and has saved my dog's life. I'm incredibly thankful for the folks over at Pan-tenex because without them I don't know if we could have afforded the prescription enzymes from the vet. Mooshnini has now gained back the 15 lbs that she had lost and still has some more weight to gain. Her energy has sky rocketed since her body is now digesting the food and my wife and I now have our fun, loving and energetic dog back. Thank you Pan-tenex!"
Jordan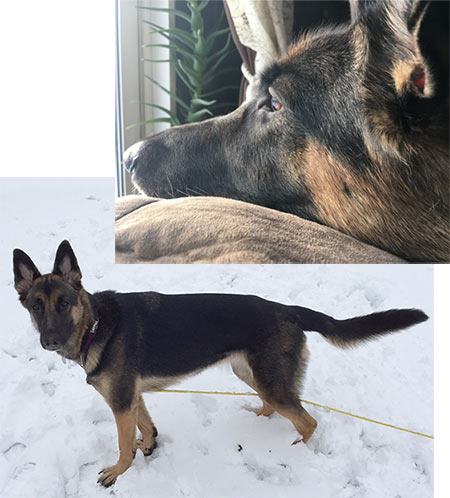 Moxie
"When our Moxie Girl started losing weight rapidly, in spite of her ravenous appetite, we knew something wasn't right. After a few vet appts and testing, along with the continuous yellow diarrhea, we finally got a diagnosis of EPI (Exocrine Pancreatic Insufficiency). We quickly started reading all we could about this condition and learned about Pan-tenex. Oh, my goodness! The relief when our pup finally started to show signs of improvement. We thought we were going to lose her! Within a couple days she had normal poops & started gaining weight. We now have our healthy Moxie back! Yay! Pan-tenex personnel were even available late one night to answer questions when we were first learning how to use the enzymes. We've never had a problem with shipping, as it always comes within a couple days! Thank you from the bottom of our hearts, we will always be loyal customers."
Darlene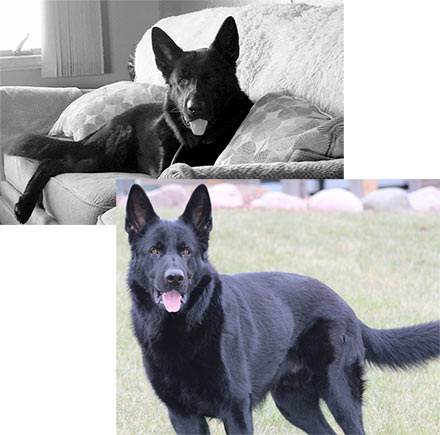 Bear
"Thanks to Pan-tenex for saving my dog's life. Only took a few days to realize that I had picked the right enzymes for my dog Bear. He's doing great using your product. I highly recommend Pan-tenex to anyone dealing with EPI (Exocrine Pancreatic Insufficiency)."
Les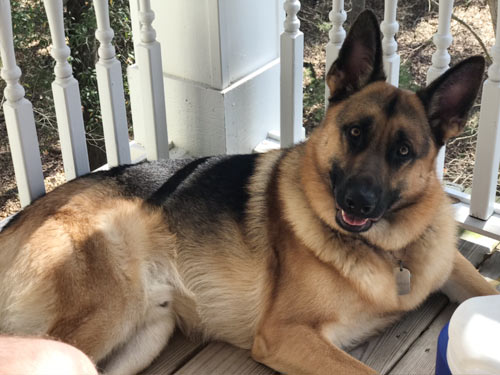 Mowgli – 1 Year Update
"One year later Mowgli is thriving and healthier then ever! He went from losing weight, down to a low of 65 lbs to 90 lbs now! Not only has Mowgli's weight gotten better but his coat and shedding has improved. He's also gotten great muscle definition and that's GREAT for an EPI dog. I still can't thank Pan-tenex enough for their great customer service and quick responses. Pan-tenex has always enlightened and educated about their product and are so forth coming with all and any questions!"
Mayre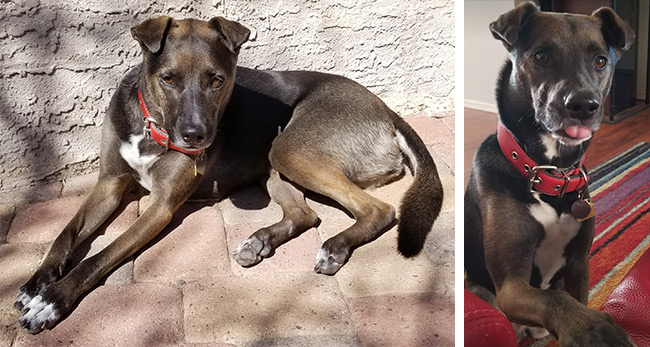 Jobie
"Jobie has been doing great since switching to Pan-tenex! Gone are the constant EPI flare ups and daily Tylan that came with the less stable 6x enzyme product we were using.
A huge thank you from Jobie and her hovering dog Mom!!!"
Christine
Lana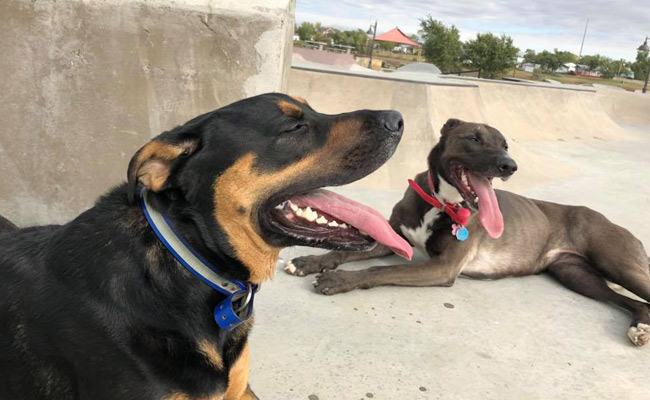 "Lana is a GSD/American Staffordshire mix. I got her when she was only 8 weeks old and studied up on everything I could about raising a happy, balanced dog. She gets a lot of exercises in her day to day life from playing fetch, swimming, chasing a laser light, and running on old dirt roads behind the car.
This year in February it looked like she had started to lose a bit of weight. Concerned, I took her to the local vet and did a general checkup. According to the vet, she was in peak condition at her age of three. However, her brother, Tucker, needed to lose a few pounds as he was a little chubby for a pupper of one and a half years. So we continued with life as usual.
As time went by she seemed to be losing more and more. We took her back to the vet, where they decided to give her a strong deworming medication. two weeks went by and it seemed she was slowly wasting away before my eyes. Desperate for answers, I went to the vet another town over, where she was prescribed Metronidazole to treat any possible infections like giardia. Another week goes by and My husband went back to the original vet, and was talking to the lady about a possible follow up on worm medication. Another vet passes by asks a few questions about Lana's eating habits (which became unmanageable as she had scheduled feedings, was eating twice as much as a normal dog, AND getting into people food on the counters and in the trash!) and her poop. Which was as I would describe as soft serve ice cream. He brought up EPI as a possibility and asked for a stool sample. Well, we gave them the sample and they somehow lost it, so I went to two towns over to a vet suggested to me by many other pet owners and immediately requested the blood test for EPI. I threw all of our savings at the appointment, as it was the only way to afford all of the bills we had been accruing.
A little less than a week later, the diagnoses was confirmed. Lana had EPI. The vet suggested buying very expensive food along with an enzyme supplement which would run us at least $400 a month. My heart sank, as I knew there was no way we would be able to afford that. So, we did some research and tried a plant based enzyme, but it didn't seem to help. In fact, she started eating her own poop after a week! NO!!!
So, I went back to the drawing board and came across Pan-tenex. Pan-tenex has been a literal lifesaver. 20 days Later, and our Lana has gained most of her weight back along with the energy to go on runs and play with her brother. Her poop is normal AND she doesn't try to eat it! Along with no more behavioral problems concerning people food and the trash. She is once again the Lana we all love and adore, and I finally have peace knowing she is going to be just fine. Thank you, Pan-tenex!"
Samantha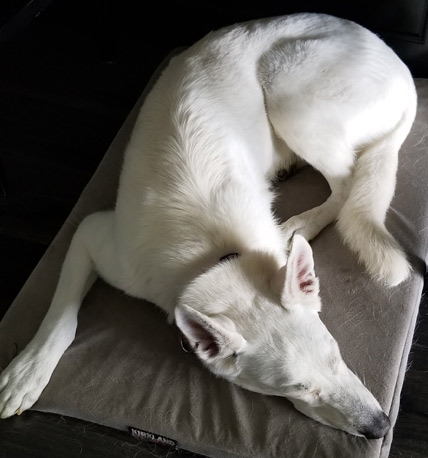 Bleu
"Bleu was really sick last June and he dropped down to 68 lbs. He dropped 14 lbs or 18% of his total body weight. I really thought he wasn't going to make it. His disposition changed, as he was constantly hungry with no relief in sight. He was diagnosed with EPI (Exocrine Pancreatic Insufficiency) after many visits to the vet and various medications. The vet had prescribed a ridiculously high-priced pancreatic medication that was well above our budget. That was when our search began. We found Pan-tenex for one third of the cost with equivalent ingredients. Bleu has regained his weight using Pan-tenex and is just as healthy as before. I am so grateful to have found this treatment at an affordable price. Bleu is only 4.5 years old and I look forward to many healthy years thanks to the makers of Pan-tenex. Truly a life saver for my best friend."
Willie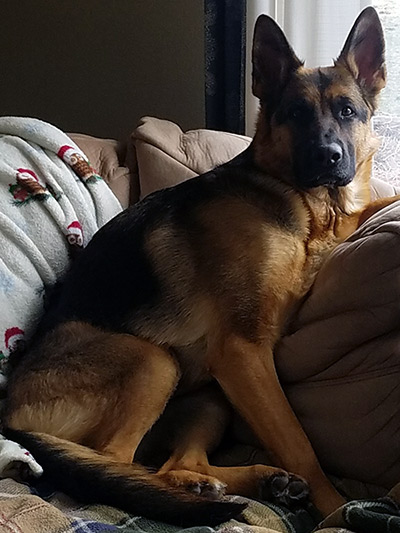 Inga
"This is our sweet German Shepherd, Inga. She was diagnosed with EPI (Exocrine Pancreatic Insufficiency) in March of 2017. It was terrifying to receive the diagnosis and we didn't know where to begin. We started her on very expensive enzymes from the vet because we didn't know any better at that time. We then switched to another brand of enzyme that was recommended by Inga's breeder. Inga was fine on this enzyme for a month or two, but then refused to eat her food when it was treated with enzymes. We tried everything to get her to eat! We switched food brands and varieties, used all kinds of tempting food toppings, and even had to hand feed her at times. Inga usually just left her food, untouched, in her dish and it turned into a mess that had to be thrown away. A friend from an EPI Facebook group had a similar problem and recently switched her dog to Pan-tenex enzymes. She highly recommended that we try them for Inga. We read other online reviews and testimonials and saw that everyone had wonderful things to say about Pan-tenex enzymes. We decided to purchase a bottle and give them a try. The very first meal treated with the Pan-tenex enzymes, Inga ate her food right away with no toppers! She ate all of the food without any hesitation! It was a miracle! After months of struggling to get our dog to eat, we found a solution!! Inga continues to eat her food with no issues!! She has put on weight and is healthy. We have also found that Pan-tenex to be more cost effective than the previous brand of enzymes because we use less of it. The $50 jar lasts us two and a half months! Thank you, Pan-tenex!!"
Melissa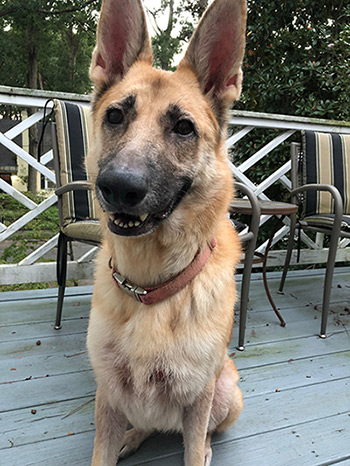 Ellie
"Ellie, my German Shepherd, was diagnosed with EPI (Exocrine Pancreatic Insufficiency) two years ago. She had gotten down to 37 pounds and desperately needed to get back to a healthy weight. I spent a few months trying to find an affordable yet effective product. I finally found it with Pan-tenex. It is effective, more affordable than a prescription, and Ellie loves it! She waits (impatiently) every morning for it to soak into her food so she can dive in. Thanks for a great product."
Amanda
Hermes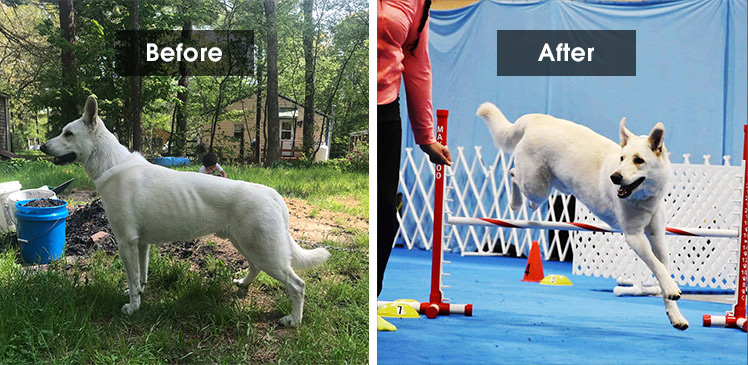 "This is Hermes before & after. He was diagnosed with EPI (Exocrine Pancreatic Insufficiency) in February 2018. At his lowest weight he was about 68lbs. The prescription medication we had for him was working but it was far too expensive! After comparing many different products we decided to give Pan-tenex a try. Hermes has only been using Pan-tenex for a few months now, but it has helped him so much. Even his coat is softer! Even though it has been a short time, we have found something for Hermes to help him! Since his diagnosis, Hermes has regained all of his weight and is maintaining it! He even has more pep in his agility game!"
Amanda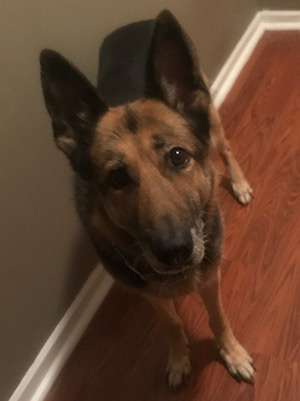 Sofie
"This product is keeping my little Sofie alive. She almost died from EPI (Exocrine Pancreatic Insufficiency), but with Pan-tenex she is getting bigger and stronger."
Maria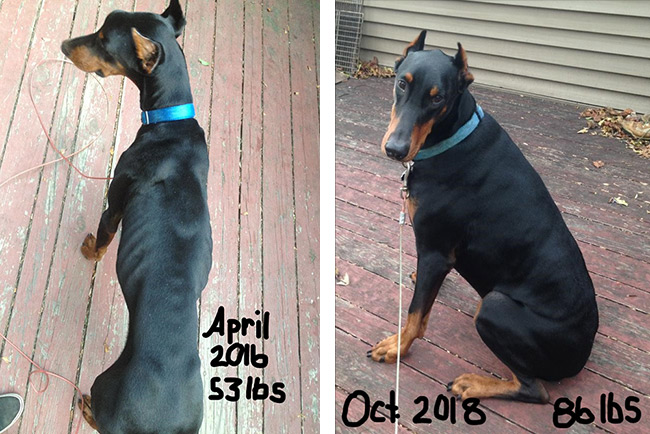 Roman
"Put your trust in Pan-tenex is right!!!
I cannot express my gratitude enough for having found your company and the wonderful product you have. I tell everyone in the EPI community about it. Not only does it work as well if not better than the other EPI marketed enzymes, it's consistent, palatable and most of all, it WORKS!!
This our second Doberman rescue, Roman. So technically, he was rescued twice. First by us and then by Pan-tenex! It literally saved his life and I will always use it unconditionally for his treatment.
Thank you again for making such a difference in his life."
Kat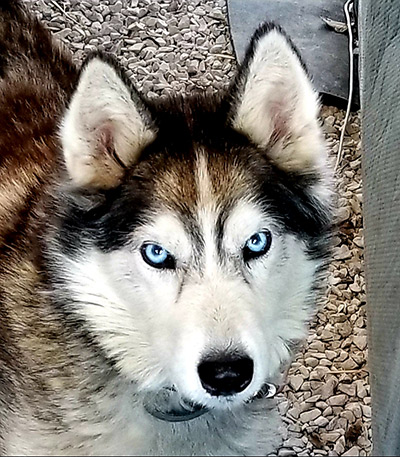 Nika
"I have to be honest that I was skeptical about your product. We had been using a prescription formula EPI (Exocrine Pancreatic Insufficiency) enzyme for Nika and not only was it crazy expensive it started not to work. Well, we thought let's try it and see. And well all we can say is Wow! It works better than the prescription EPI enzyme and Nika our Husky has solid poop way more often the she did with the vet formula. We will be buying more thank you so much!!!!!!"
Christina
Liam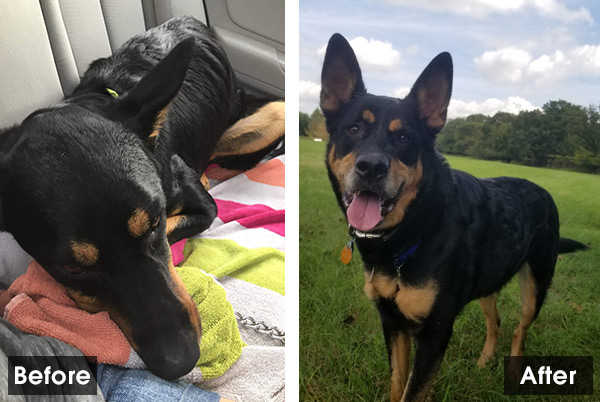 "Liam went from being a perfectly happy year old puppy to being a two year old who couldn't keep any weight on. While his energy levels didn't change, many other things did. He dug out the trash, ate anything and everything he could, and his stools were entirely a liquid. Liam's fur was dry and brittle, but his coat was oily and filled with flakes. It took two veterinarians to diagnose his EPI (Exocrine Pancreatic Insufficiency).
At first the enzymes we found weren't working at all, so we switched them. Then we switched them again. We found a product that seemed to work, but the company soon changed it and suddenly it quit working.
Pan-tenex has been the ONLY enzyme that worked and continues to work every day. Shortly after starting Pan-tenex Liam was no longer starving. Slowly, but surely, he went from having visible ribs to plump and happy. His stools became solid within a few weeks of starting Pan-tenex, and his skin and coat showed changes within a month or so.
Pan-tenex has changed the quality of life for both me and Liam. I don't know where I would be without my best boy, and thanks to Pan-tenex I don't have to worry about how his EPI could have harmed him.
Also, shout out to Pan-tenex for being AFFORDABLE. Not only does it work wonders, but it's a fantastic amount of product for a fantastic price. A singular jar usually lasts us two months."
Jessie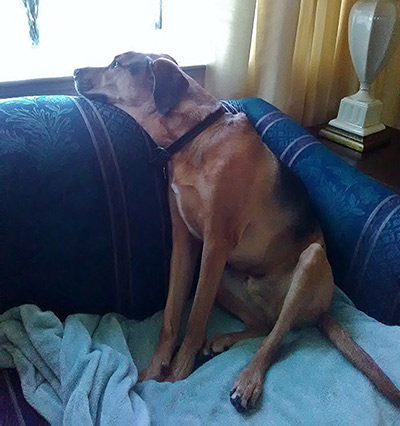 Max
"This is Max watching the birds on the telephone wires. He is doing so much better since using Pan-tenex. A couple of years ago, he was all skin and bones and slowly starving to death due to having EPI (Exocrine Pancreatic Insufficiency). Since using Pan-tenex, Max is a much happier dog!"
Irene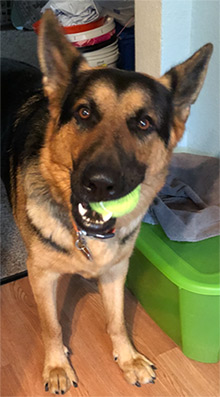 Blaze
"Meet my Dog Blaze nicknamed Boyz. He has had EPI (Exocrine Pancreatic Insufficiency) since he was 5 months old and will turn 2 in a few days. We started him on another brand of enzymes, but he wasn't putting on weight so I read about Pan-tenex and decided to give it a try. We are so happy with Pan-tenex and Blaze has regained all his weight back and is doing great. We were recently able to cut back on the amount of enzymes we use and his stools are still good. I would highly recommend this product if your fur baby has EPI. Thank you."
Nan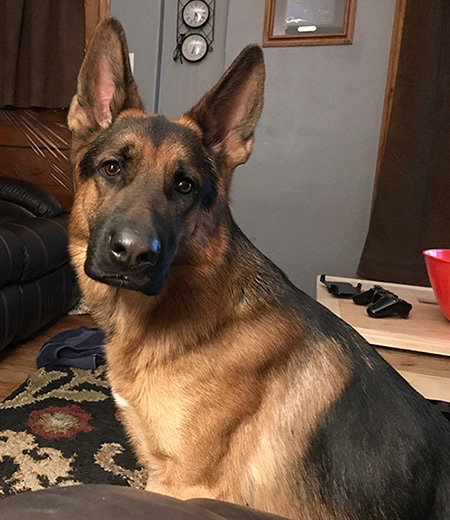 Lou
"Our Lou was diagnosed with EPI (Exocrine Pancreatic Insufficiency) very young. He acted like he was starving all the time even though he was eating a ton. Our vet suggested another medication that was very expensive and had to be ordered through them due to it being a prescription. When I saw the Facebook posts about Pan-tenex and read the testimonials I knew instantly we were going to try it. Lou is looking great on the Pan-tenex and I love that I am in control of ordering it & not to mention it is less expensive. Thank you Pan-tenex, we love your product and shipping is always so fast!"
Cheryl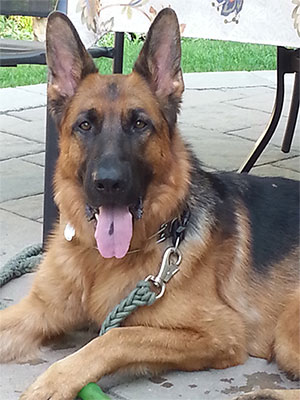 Jax
"Meet Jax, nicknamed "Moose". He has had EPI since he was a pup. He is now 3. It was a constant battle in trying to but weight on him even though he was fed 10 cups of food daily. We have tried various enzymes, including the vet recommended ones. Nothing was doing the trick. Pan-tenex really works! Within a few weeks results kicked in. We were able to cut back on several cups of food also. We mix it with a little bit of tuna flakes and warm water. He inhales the food. He does get very thirsty and eats grass blades afterwards. He is full of energy, He is the typically fun loving GS. His pass time is swimming, chasing sprinklers and is a professional ball chaser. Thanks to Pan-tenex he was able gain close to 20lbs, his stools are good and less frequent. Highly recommend it. Thank you!"
Kathy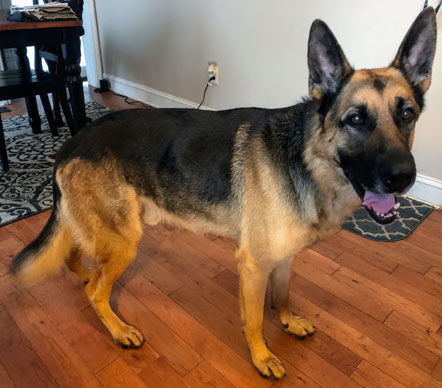 Emil
"Our German Shepherd, Emil, began losing weight and got down to around 81 pounds before being diagnosed with EPI. He is 4 years old and this came out of nowhere. Thanks to Pan-tenex and some trial and error with his food, our big guy is back to his normal weight and looks & feels great. Amazing product at a great price and quick shipping."
Kaitlyn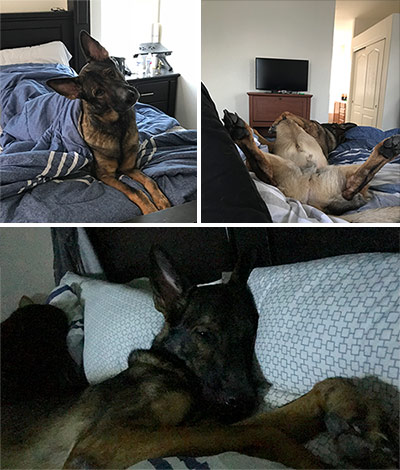 Ianto
"I struggled with ordering other digestive enzymes for my big boy Ianto (pronounced Yawn-Toe) but it was breaking the bank. Browsing some EPI sites online one night I saw someone recommending Pan-tenex and decided to give it a try. My boy has done wonderfully since we started using it and is up to 100 lbs from the low of 67 lbs he was at when he was diagnosed with EPI. Pan-tenex is cost effective and has super quick delivery, EPI has no cure and my boy will require this supplement for the rest of his life and for the rest of the time I have with him I will be staying with Pan-tenex."
Allen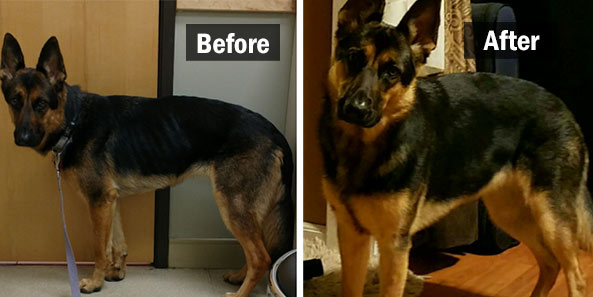 Lila
"Around two years old Lila became very ill And lost over 30 pounds. The vets at Blue Pearl in Michigan acted very quickly & she was diagnosed with EPI (Exocrine Pancreatic Insufficiency). We had tried two other brands of enzymes before Pan-tenex which did not work. Now she will only be given Pan-tenex, as it is the best. She is not only strong, but healthy and very happy. Thank you Pan-tenex, I also appreciate how quickly you deliver the product too!"
Carrie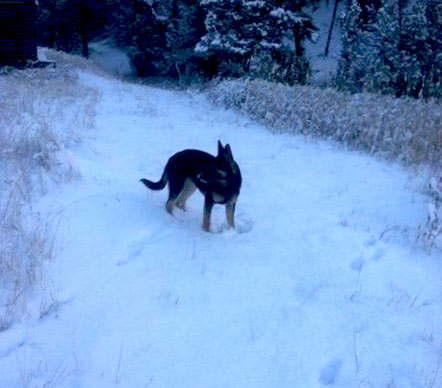 Buddy
"My German Shepherd Buddy was losing weight even though he was eating. He had constant diarrhea with EPI until I started giving him Pan-tenex. No more diarrhea & he has put on weight and now looks amazing. He's back to his handsome self! I would recommend this product to anyone whose dog is having similar problems with EPI."
Kay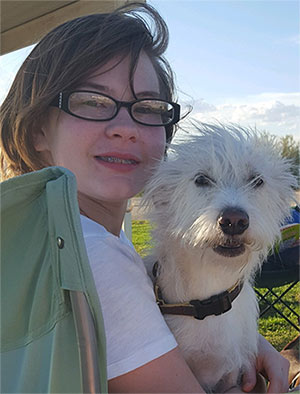 Fergus – 1 Year Update
"It's been a little over a year since Fergus has been on Pan-tenex and I am so happy with how he has thrived! Not only has he maintained a healthy weight but he is now back to being the happy dog that he was before EPI (Exocrine Pancreatic Insufficiency) took over his life. Every morning he and our other dog race around the house and then out the doggie door for some more laps around the yard."
Janice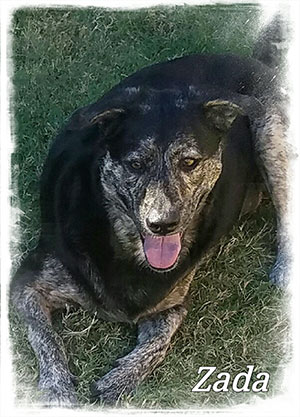 Zada
"This is an amazing product !! Saved our Dogs life! Zada was diagnosed with EPI early this year. Within 2 1/2 weeks she had dropped over 20 lbs. Thankfully I had someone take us into the Vet and get her tested. One of her litter-mates had been previously diagnosed a few months prior so at least we knew some of the symptoms. Within just days of being on Pan-tenex, Zada began to put her weight back"
Cindy
Cricket
"Cricket is a 14 year old pug. I have owned her since she was 5 weeks old. About 6 months ago her weight went from about 20 pounds to 11. She was eating twice the amount of food and her stool was yellow. From that point I started to research and had some tests ran. My vet suggested a different enzyme to use, but after looking into different ones I decided to go with Pan-tenex. After just 2 days of use her stool was back to normal and she was on her way regaining the lost weight. She has now gained most her weight back and is her happy normal self. This product changed our lives and has given us more happy moments with our beloved old Cricket."
Amber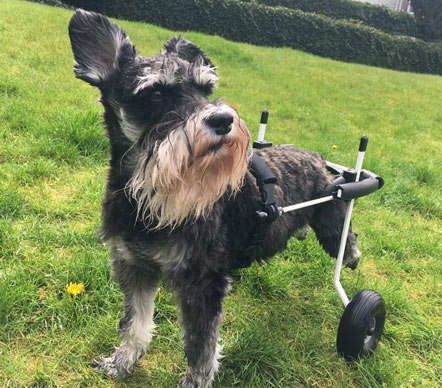 Gino
"My little guy Gino is recovering from a spinal stroke. He has always had issues with EPI (Exocrine Pancreatic Insufficiency) and Pan-tenex helps me keep him regular and happy. Thank you so much!"
Teresa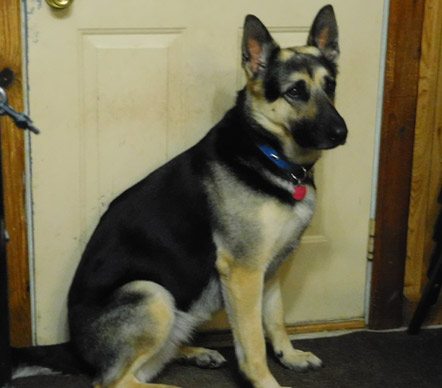 Jenny
"Jenny was losing weight rapidly from EPI (Exocrine Pancreatic Insufficiency) until we started using Pan-tenex. She has gained all of her weight back and now has lots of energy. Thanks to Pan-tenex for saving her life!"
Patricia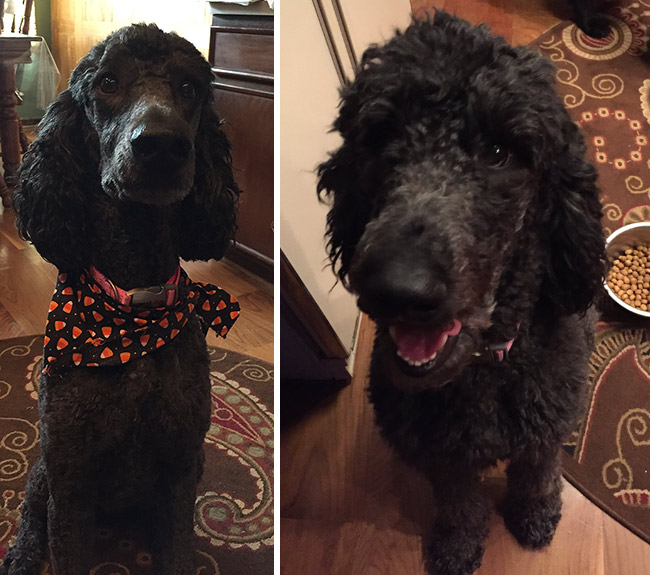 Ophelia
"In March of 2017 Ophelia, a standard poodle, discovered the very negative effects of eating baby squirrels…Yep, she contacted Giardia. After multiple treatment attempts her weight just kept dropping, she had massive diarrhea and would try to eat the stools. She was always ravenously hungry and no matter how much I fed her she just kept losing weight. Our amazing vet had said at first the symptoms didn't fit with that disease, and wanted to test for EPI, or Exocrine Pancreatic Insufficiency. But I hesitated, because how could a genetic disorder pop up in a 3 year old? Anyway, so we ran the test and sure enough it came back positive. Here was the problem, the pancreatic enzymes from the vet were $130 for a one month supply, and Ophelia would need to stay on them for the rest of her life (she's only 3, and poodles are usually long-lived). I love her but was devastated to think of this expense. Not to mention that the supply from the vet didn't seem to be 100% effective, and they suggested adding more of the enzymes to her diet. Even more money?!?
I started looking around online and found many digestive supplements but none had the same enzyme concentration as the prescription from the vet. I was actually contemplating re-homing Ophelia, because I just couldn't imagine how I could sustain the expense. But then I stumbled upon Pan-tenex. It was about 1/3 the price, for the same amount of enzyme (by weight). I tried it, and almost overnight Ophelia's symptoms were controlled! Now when we go to training I give her a little enzyme cocktail so that the training treats don't upset her digestive system, and she routinely gets the enzymes on her food each morning and night.
My girl, who started at 55 pounds had dropped to 43 pounds at her lowest point. Now she is holding steady at about 50, which is a great accomplishment! Thanks Pan-tenex, you've made a believer out of me. Keep making such a great product because my beautiful curly girl will need it for about 12 more years!"
Tamara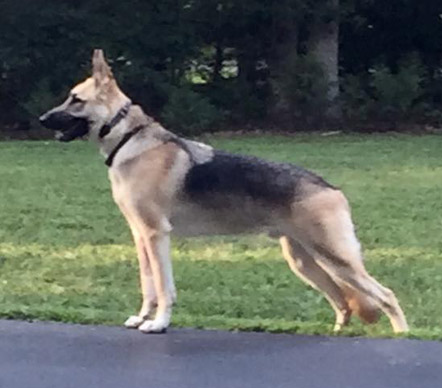 Jack
"We rescued Jack at 11 months old in February 2017. A year later, I noticed that he started having yellow runny poop, was getting up several times a night needing to go out and was eating like he was starving. His ribs were starting to show and he was losing weight. When I started researching, I discovered that these were all symptoms of EPI. I miraculously ran across the Pan-tenex website and placed an order immediately. Within two feedings, Jack's poops returned to normal. Over the course of the following two weeks, he returned to normal eating patterns and began to gain weight. I can no longer see his ribs and he is back to his normal, goofy self. I am so pleased that I found Pan-tenex. It has saved my sweet boy's life! The orders are promptly delivered and the customer service is excellent. I will be a customer for the rest of Jack's life. Thank you Pan-tenex!"
Diane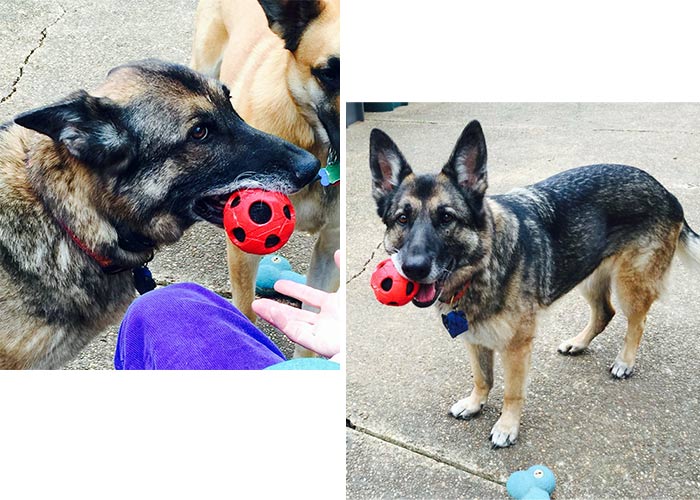 Boz
"We are so pleased we found Pantenex!  Here is our lovely girl, Boz.  She is an 8 year old GSD and was diagnosed with EPI when she was about 2.  Pan-tenex is on par with more expensive EPI supplements for a much better price.  Our GSD thanks you!"
Elizabeth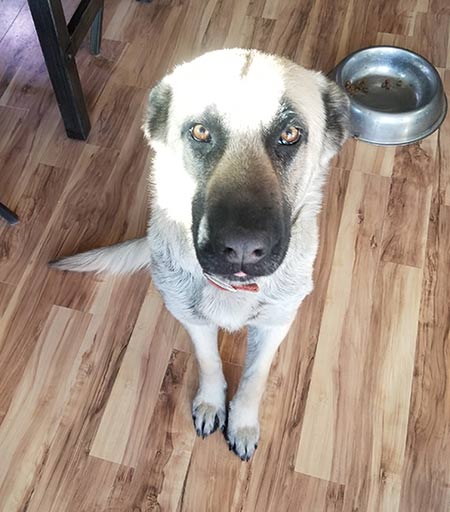 Sheba
"Our 2 year old German Shepherd named Sheba was on the brink of death because we couldn't find a good EPI enzyme until we tried Pan-tenex. She has thrived on this product after trying several different EPI enzymes for her. She has made a full recovery and has regained all her weight. Our Vet is thrilled with the results and turn around that she has made thanks to Pan-tenex. Thank you for all that you do!"
Rebecca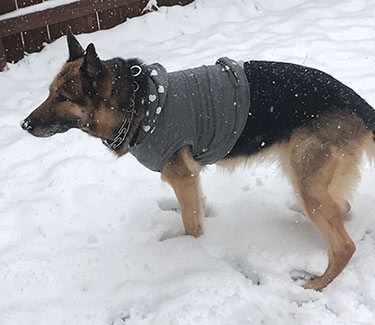 Xena
"Pan-tenex is a life saver for my Xena. She has been plagued with EPI since she was two years old. She is about to celebrate her 9th birthday. Thank you for a great product. She is happy, healthy and beautiful due to Pan-tenex!"
Toya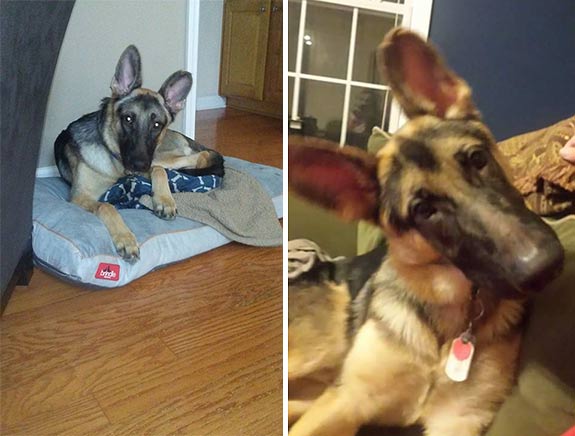 Valor
"My wife and I took Valor to the ER 3 months ago. He did not seem to be gaining weight and he was severely bloated. I was feeding him 8 cups of quality food everyday but he just seemed to be ravenous. The vet identified him with so much gas and the blood work revealed a good possibility of EPI. He recommended a powder by another company that was $300 a month. Here is what followed. He had so much gas because he was starving and woofing down his food. With further research I found Pantenex. He originally weighed in at 61 lbs at 15 months old. After 3 months of using Pan-tenex, Valor is up to 74 lbs. I do not want him gaining much more because of the scare of Hip Dysplasia. The vet did notice some cracking in his hips. I actually called the vet and told them about Pan-tenex, as some of us cannot afford 300/mo. Thank you again for Pan-tenex, it did save Valor's life. Thank you."
Michael
Rain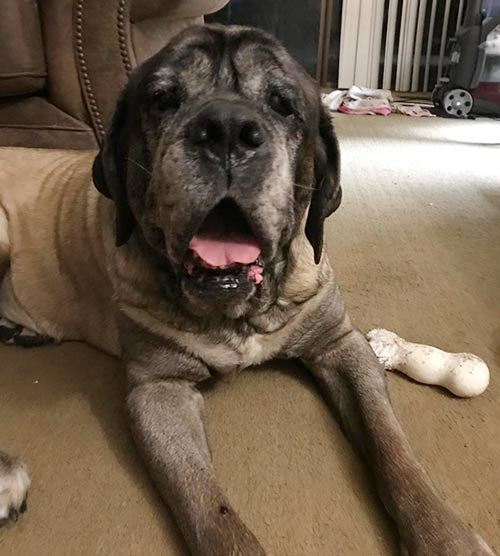 "My old girl Rain started having diarrhea at the end on Nov… Normally when that happens we withhold food for 24 hours and then go to a bland diet with FortiFlora and it is no big deal… this time it didn't work, so off to the vet with a stool sample, that was clear so we went on 2 weeks of Metro… after that was through we started slowly adding her grain free food back into her diet ¼ c added every few days… we got up to 3/4 c added in to the rice and chicken and diarrhea came back…. We were heading to Oregon for Christmas so we took her to the vet again, We did bloodwork and all her kidney and liver functions were fine, great levels is what we were told. She was getting so skinny we could see all her ribs and she acted like she was starving, now we know she was….We we're given more Metro and Prednisone to get us through Christmas, we also put her on the I/D sensitive stomach (just to try something new because bland diet wasn't working and it would be easier on our amazing pet sitter) at that point we were also adding "Firm it up" pumpkin supplement, and still giving her FortiFlora. After we got back for Oregon I noticed some of the rice was whole in her stool so I started doing some research. I discovered a plant based enzymes "Enzyme Miracle" and a new probiotic that was rated highly "Probiotic Miracle"… Thinking it might help I started her on it…It seemed to help a bit but not completely so time to call the vet to see what the next step was. I told him what we had done and he said if it was Pancreas issues that they usually use a pork based enzyme…He told me it would be a prescription and to order and he will do the ok.. I started doing more research trying to find a cheaper option, $200 a bottle was a little too much. During that research I found Pan-tenex, I decided to give it a try because I could get it quick and I didn't have to wait on a script for it…. It came and we started her on it right away. We saw a still soft but firmer stool within a couple days. After reading the information about enzymes I came across information about EPI, and I am so glad I did. I realized I was not putting in enough enzymes with her food. I was using 1 tsp in 3+ cups of rice and chicken… So I upped the enzymes to 3 tsp and 2 days later her stool was totally normal!! After a couple weeks of her being stable I started slowly decreasing the enzymes and she is still doing great. We are down to 1.5 tsp per 2.5 cups of food. I am so happy to have found Pan-tenex it has made my girl healthy again!"
Courtney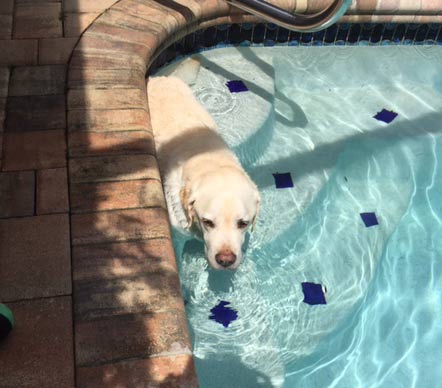 Sonny – 1.5 Year Update
"It has been over 18 months since we began using Pan-tenex and there has been such a wonderful improvement in Sonny's health. He has regained all the weight he lost. His overall well-being has improved so much. He plays and swims again and is back to his old self. I am forever grateful to Pan-tenex."
Patti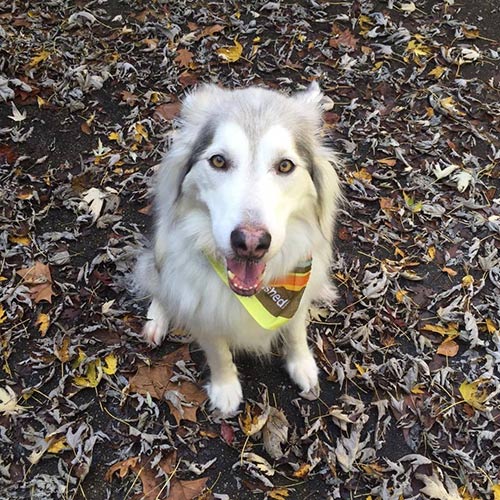 Wolfie
"Wolfie was diagnosed with EPI in the summer of 2017. She had chronic diarrhea, was lethargic, depressed and always hungry. She had lost over 20 lbs in just a few short months! It was a scary diagnosis, but we started to get hopeful now that we knew her condition had a name. After a bit of reading, I decided on ordering Pan-tenex enzymes as I found them to be of superior quality to what my vet had wanted us to purchase from them and a fraction of the cost. Shipping was quick as we're only a few states south. Within 1 day of using the enzymes, Wolfie's loose stools cleared up. After 6 weeks of using the enzymes religiously, she had put on most of the weight she lost and had a lot more energy. I'm so grateful we found Pan-tenex, as it has saved our dog's life and saved us a lot of money. We now buy in bulk to save a few extra dollars thanks to that option being available. We are a young family with a toddler and 2 dogs so every dollar saved counts! Thanks for making such a great product at an amazing price."
Lauren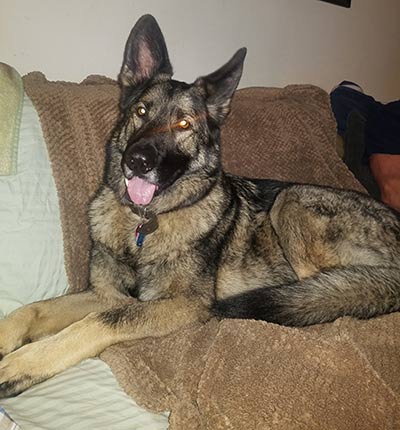 Bear – 2 Year Update
"My dog Bear has been using Pan-tenex for over 2 years now. After being diagnosed with EPI he wasn't doing good, as he was very thin and his ribs were showing. Thanks to your great product, he has been doing very well since we started giving him Pan-tenex. Just look at him now!"
James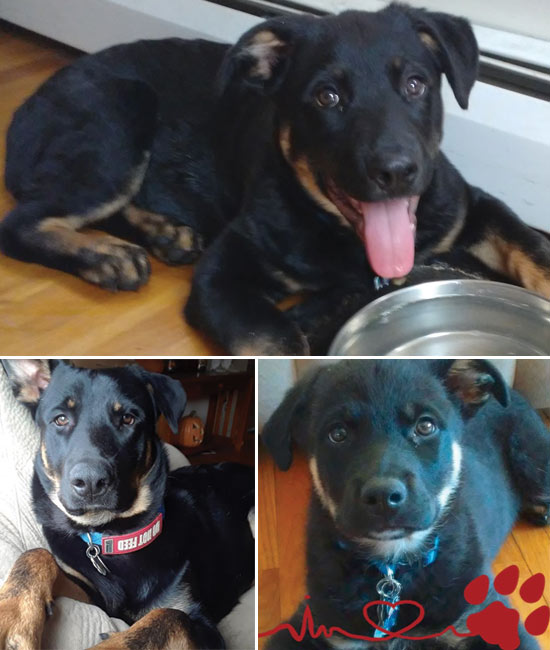 Zeus
"Zeus is a 1 year old German Shepherd-Rottweiler mix. When we first got him as a baby he had chronic loose stools, gas, & tummy aches from EPI. Luckily we found Pan-tenex! He is now thriving and he weighs a whopping 94.4 pounds (as of this testimonial). He's a happy & healthy boy with the shiniest coat! He now enjoys meal times and he is able to absorb all of the nutrients that he requires! HIGHLY recommend this product! Thank you Pan-tenex ♥"
Debby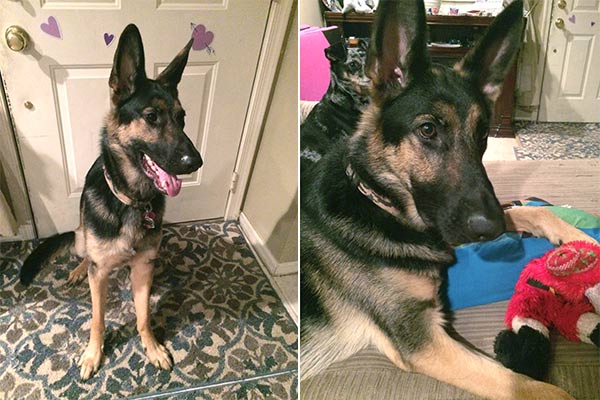 Riley
"Your product saved my 1 year old German Shepherd's life! Riley was losing weight like crazy. Within 1 week of using Pan-tenex there was a huge change in his stools and his energy levels returned. He is now back to his old self! Thank you so much, my son now has his best friend back!"
Jo Anne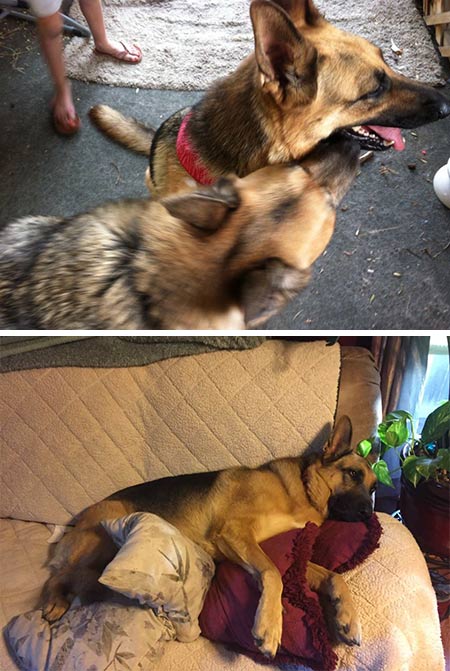 Bella
"This is Bella and Aegis. Aegis I lost to a tumor in his sinus cavity a year ago, so when Bella was diagnosed with EPI I was sure I would lose her as well. Her vet wasn't sure what was wrong with her so she went through lots of tests and meds trying to get her weight loss and bowel movements under control to no avail. She lost over 20 lbs in less them 3 months at the time we thought maybe she had contracted giardia as she loves the water and while camping she had been in the river a lot. Finally another Dr. suggested to test for EPI and sure enough she had the worst case they had ever seen. I immediately got the enzymes from our vet at a cost of $100.00 and started her on them it seemed to help at first but then after a week and with enough enzymes for maybe another week we were back at square one with diarrhea, hungry all the time and eating anything she could get in her mouth. So I started researching EPI on the internet and I found Pan-tenex, I ordered the product and started her on it . We are now 3 week on Pan-tenex and she is gaining her weight back, she isn't shedding as badly and her coat is beautiful and shiny once again, and she isn't acting like she is starving all the time. I am so THANKFUL that I found Pan-tenex and I believe in this product , I didn't want to lose my girl! Thank You Pan-tenex for making such an amazing product that is also affordable, I will definitely be a customer for life!"
Barb and Bella
Isabelle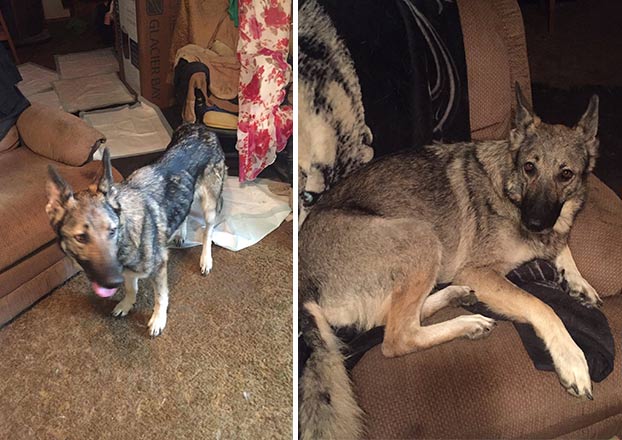 "Our girl Isabelle had an episode of diarrhea in April of 2016 where it lasted about 3 weeks and we took her to our vet to where they provided Anti-diarrheal meds and steroids which helped her at that time, and the diarrhea cleared up and she was back to normal. April 2017 came around and about the same exact time of the year, she had another bout with diarrhea, except this time it was chronic and lasted till about the month of June. While she had these episodes, she also had accidents of diarrhea almost everywhere in the house and she was tearing things apart & scrounging in the trash. We also went through different trials of prescription foods & those didn't help either. After tests of her poop to see if she had Giardia that test was negative. So we & the Vets office concluded that she has to have EPI. Our Breeder had read up on EPI and said to us that she thought our girl had it, and she found your ad about Pan-tenex Enzymes and said to give it a try. As you can see in the early picture she looked like she was skin & bones. In the most recent photo she looks a lot healthier. We ordered her 3rd tub of Pan-tenex and it has been helping her digestion and she's now back to being her normal self! Your product is a literal life saver!! Thank you so much!!"
Lisa
Poe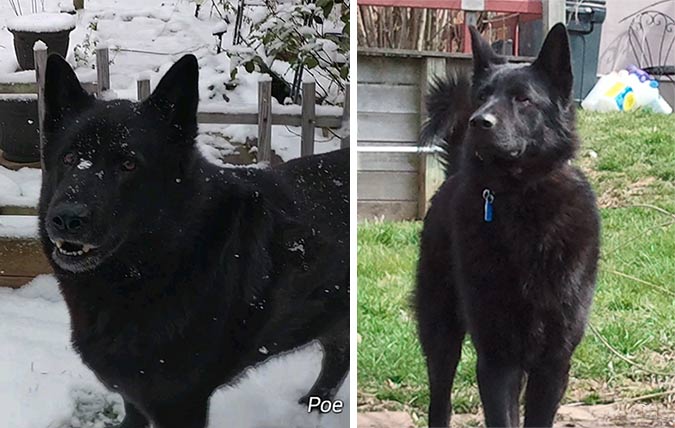 "I usually don't write reviews, but my experience with the way animals are cared for drove me to put this out there. First and foremost, this is probably the best product out there for EPI and at the best price. My dog Poe had 2 abusive homes before I got him. He was in questionable condition. I had him 7 years before his pancreas gave out, but he was never in the best of shape. My first vet couldn't figure it out and it cost me over $3,000.00. Second vet hit the nail on the head & gave us pancreatic enzymes and things seemed to get better. Problem was this stuff smelled like chemicals. Try to get your dog to eat chemicals. You can't, they smell everything. It cost $132.00 per 12oz bottle and I had to put steak in his food or he wouldn't eat. Pan-tenex doesn't have any chemical smell, I don't have to mix anything in his food for him to eat it. The jars are 8.8 oz (250 grams), and I can buy 3 for roughly the same price. Poe's coat looks better, he's gone from 60lbs to 90lbs, and has more energy than I know what to do with. Don't think about buying this product. JUST DO IT. You won't be sorry. I get my orders in 3 days or less. You can't beat this."
Dave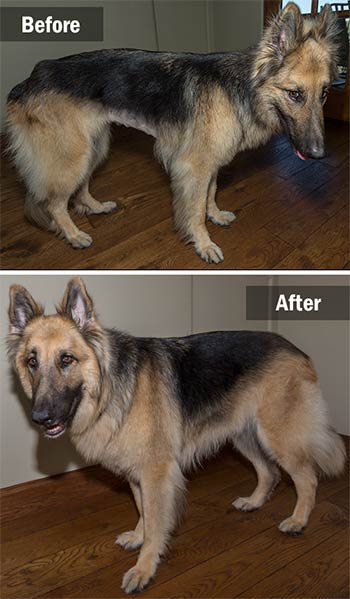 Ivanka
"After rescuing a terribly emaciated German Shepard, I took her to the vet to find out what kind of issues she might have. They did several tests and gave her medication she didn't need but never diagnosed EPI. I knew that her food was not getting digested because after a month of cooking her premium food she lost weight. I hit the internet and discovered this disease. She had every marker so I took her back to the vet and had them do an EPI test. Before I got the results of the test, I read all I could about the enzymes available for treatment and found what I thought would be the absolute best, Pan-tenex. I ordered a jar, but it didn't arrive when I thought it would so I contacted the company by email. Within 2 minutes a wonderful gentleman called me at home and spent twenty minutes on the phone with me giving me all kinds of information and hope. He was amazingly kind and put my fears to rest. He overnighted another jar of enzymes and I started my dog on them right away. The other jar did arrive, and he told me to keep it as a gift. That is customer service personified ! My dog went from skin and bones (53 lbs) to a very healthy 81 pounds. She is happy and doing amazing. Thank you Pan-tenex for saving my beautiful girl!"
Jacquelyn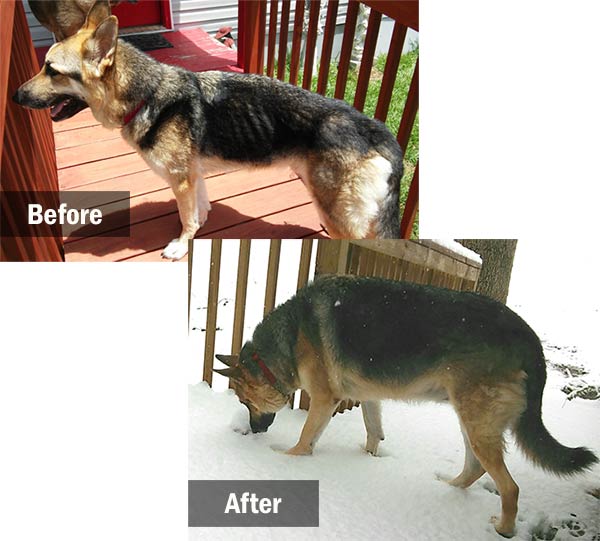 Enzo – 12 Month Update
"Here's the beautiful Enzo now almost a year on Pan-tenex!! Such a joy!! He is both my protector and my friend! Thank you, Pan-tenex!! He was quite literally on death's door when I adopted him. No doubt in my mind or my vet's that your product saved his life. We are forever grateful!"
Dale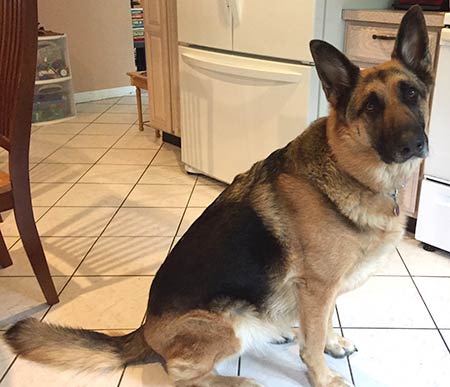 Ralph
"I've been using Pan-tenex for over a year and its been every bit as effective for my German Shepherd, Ralph's EPI as the powder my Vet prescribed. But Pan-tenex is less than half the cost! Shipping and customer service is always great too. Awesome!"
Chris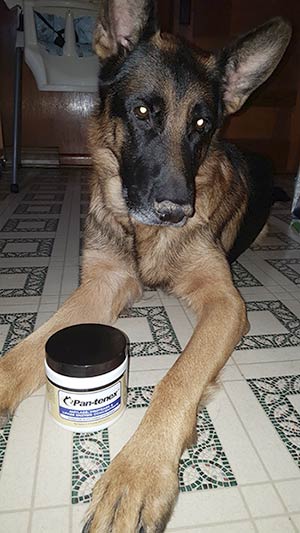 Kilo
"This is Kilo. He's my wild and crazy four legged baby. He's a 5 year old German Shepherd and I almost lost him if it were not for my wonderful Vet & Pan-tenex! My Vet took the time to find out exactly what was wrong with him. Kilo went from this massive beautiful dog to skin & bones in the matter of months. My vet called me one day and said he has (EPI) Exocrine Pancreatic Insufficiency. We tried pills that showed no sign of improvement and our Vet told us there was a powder form but it was much more expensive. We started getting the Rx powder form from this pet Rx co. It was working, but OMG, the cost of it was CRAZY!! It was like; Do we keep our dog alive or keep food in the house?? I mean, really!
My husband finally found Pan-tenex Enzymes and it WAS A BLESSING! NOT ONLY DOES IT WORK, BUT THE COST OF IT IS SO MUCH MORE REASONABLE AND SENSIBLE! If my husband had not found Pan-tenex I'm pretty sure my baby would not be with us today. Thank you Pan-tenex for making such a great product! And thumbs-up to their shipping dept! They actually take the time to make sure your order is correct. They have actually called me personally a few times. What a Great company!! I recommend Pan-tenex to anyone that has pets with EPI! Thank you!!!"
Christy, Dan & Kilo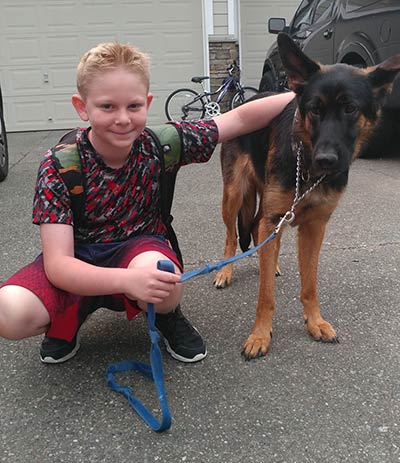 Hennessy
"My GSD, Hennessy, started suffering from EPI when she was about 6 months old. It took a couple of months for us to figure out what was wrong with her, and by then, she was skin and bones.  After going through a few different types of enzyme replacements, we found Pan-tenex. It was more affordable and worked better than the brand the vet recommended. She's been gaining weight, slowly but surely!! She's much happier, healthier, and full of energy!"
Stephanie
Ranger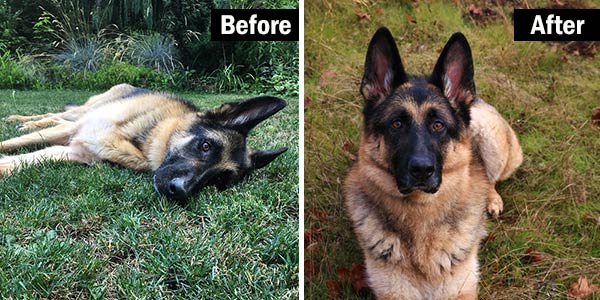 "When we adopted Ranger he was almost 2 years old and he started to lose weight around his 5th Birthday. We took him to our vet and after a few visits and tests we confirmed it was EPI. I was reassured to hear it, as I have a background in nutrition and knew we could figure this out. We started out with the enzymes the vet provided at close to $200.00 for not even months' supply! (Plus, our vet wanted to start him out at a higher dose to get him up to weight.) I knew we could not buy it from them again, as I could not afford or justify spending that much. After getting it and comparing it to the Pan-tenex website information I knew this is what I was looking for and most likely better! After using it for close to 3 months my thoughts have been confirmed! Ranger and our family could not be happier! His weight is back to normal, his stools look good, his coat is now shiny and his energy is up again! Thank you Pan-tenex!"
Julie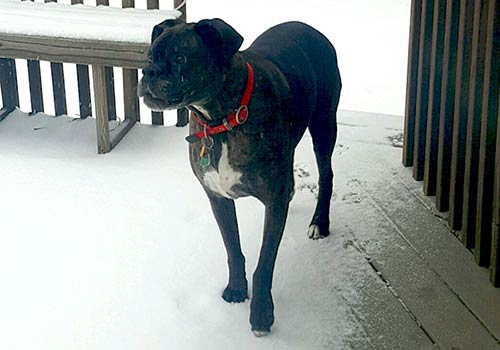 Banter – 1.5 Year Update
"My boxer Banter has had continual success with Pan-tenex since we have been using it for well over a year now.  Before we found this product he was skinny and tired all the time.  However, since using Pan-tenex in his daily feedings, he is at a perfect weight and still acts like a puppy at age 10.  Thanks!"
Debra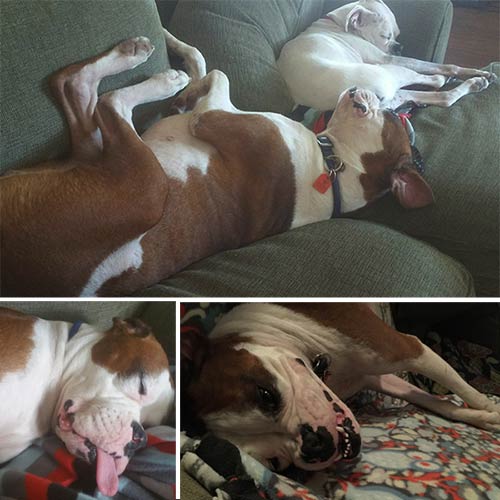 Jamison
"We are so thankful for your company and your product Pan-tenex.  When we adopted Jamison he was extremely ill with EPI.  He was covered in a rash, he smelled, vomited after eating, and had constant loose stools.  He has a pancreas that does not function, your product allows him to not only digest his food, but receive nourishment from the meal.  He is now a happy, healthy, and active goofball.  You have given him a life and we are so appreciative and grateful to you! We tried other products on the market, but Pan-tenex has worked the best and is affordable!
Thank you so very much!!!"
Kirk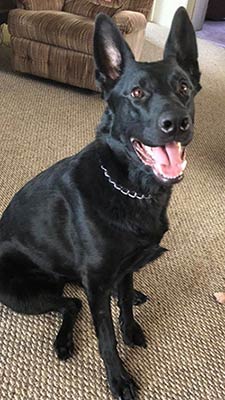 Bella
"Bella was diagnosed with Epi in April of 2017. She was only a year and a half old at the time and had deteriorated from 78 pounds to 60 pounds. Her ribs were beginning to show and started to become depressed. The vet prescribed enzymes worked however she wasn't gaining weight and they were way too expensive. I decided to try Pan-tenex and the results were way better. Bella went back to the playful puppy we've been missing. Her coat became thick and shiny again and has started to gain her weight back. I highly recommend Pan-tenex because not only does it work it is a lot more affordable! Thank you Pan-tenex for saving our Bella!"
Kayla 


Nanuk – Two Year Update
"Nanuk is living the life!  He is energetic and we've got our old Nanuk back!  The 10x potency of Pan-tenex literally saved him after the 6x enzymes we used in the beginning did not work well enough.  Cheers to you and your staff.  We are always grateful!"
Robbie and Patty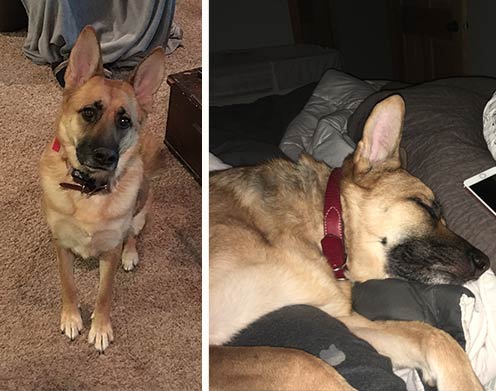 Hazel – One Year Update
"Well, here we are one year later with my pup Hazel using Pan-tenex and the results are staggering from where she was! My Wife and I have noticed a huge turn around in her behavior as well as her physical appearance! She is no longer starving to death, unable to digest her food due to EPI (Exocrine Pancreatic Insufficiency). These days she is the typical German Shepard, happy and running free with her brother and sister all while taking her place as protector and best bud to her new tiny human companion. Thank you again Pan-tenex, without you, Hazel would not be here to complete our family."
Nick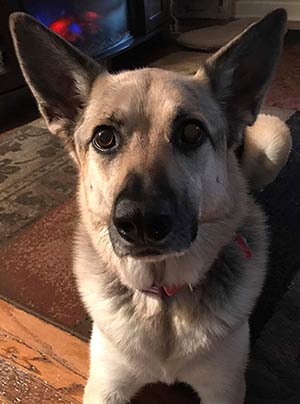 Jada
"Pan-tenex is a lifesaver! 2 months ago I was watching my 4 year old shepherd Jada slowly starving to death. After multiple vet visits, antibiotics, probiotics, bland diet & 8 lbs of weight loss my vet finally mentioned EPI. With no time to spare, we ordered a jar and began mixing it in with her food. Within a few days, her stools returned to normal. Her body began absorbing the nutrients that EPI had robbed. You could see the relief in my dogs face, as she ate and became full and relaxed. She is gaining weight and her coat is shiny and soft. I cannot thank you enough for making a quality product that is so readily available. You are giving us many healthy years of life!"
Melanie
Penny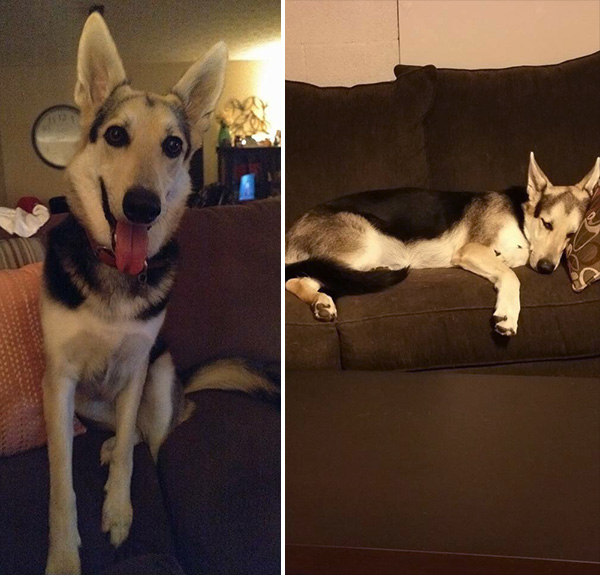 "My GSD Penny is 3 years old. Back in the Spring, she began to have constant loose cowpie stools that were yellow in color, along with frequent gas and she just didn't act like herself. Penny lost almost 20 pounds in just about three months. After many trips to the vet with no solution, a family member happened to stumble upon EPI online. I immediately knew this was what Penny had, and set up the appointment for the test. She tested positive and the search for the right enzymes started. In my research, I started with a popular EPI forum on the internet. They all recommended a generic brand of 6X and 8X enzymes. I was just about to pull the trigger on that enzyme, but something stood out to me. All of the people who were using those enzymes reported that they all had setbacks along the way. "It's a struggle" and "It's a process" were all things they were saying. I thought to myself, if this product was so good, why were so many of them having inconsistent results and setbacks? Then I found Pan-tenex. I emailed them and they were very helpful and courteous. After speaking with them and reading the testimonials, I purchased my first jar of Pan-tenex. Penny and I have never looked back! I immediately saw a difference in her stools. After a couple days, Penny was back to her old self! We have had zero setbacks or bad days since we started on the product four months ago, and she has gained all of her weight back. The people at Pan-tenex are always so helpful and eager to answer my questions as well. I will always be grateful to them for saving my baby!!"
Patrick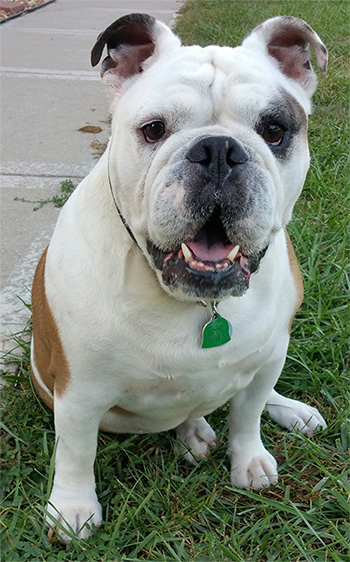 Bella
"Bella is one of our rescued English Bulldogs. She began having diarrhea, lethargy and weight loss in the winter of 2016. She lost approximately 15lbs, and ultimately was quite underweight. She was worked up for parasites, food intolerance/allergies, and even thought to possibly be "overfed." Finally, a simple test proved Bella to have exocrine pancreatic insufficiency (EPI). We started her on enzymes that were provided by our vet, with only modest improvement, and at a hefty price. I began doing my own research and discovered Pan-tenex enzymes. I now combine Pantenex with probiotic and B-12 with intrinsic factor, and Bella is as good as new!  Actually better than new…absolutely no loose stools/diarrhea and her weight is back to normal. Her coat is now even better than before she was ill.  I can't explain why, even Bella's flank alopecia has filled in after being on Pan-tenex. Alopecia is very common in bulldogs, and just something you "get used to," but no more.  I am very grateful to have found this product! Thank you for allowing me the opportunity to comment. I have shared our experience with other members of our rescue, Kansas City English Bulldog Rescue."
Michon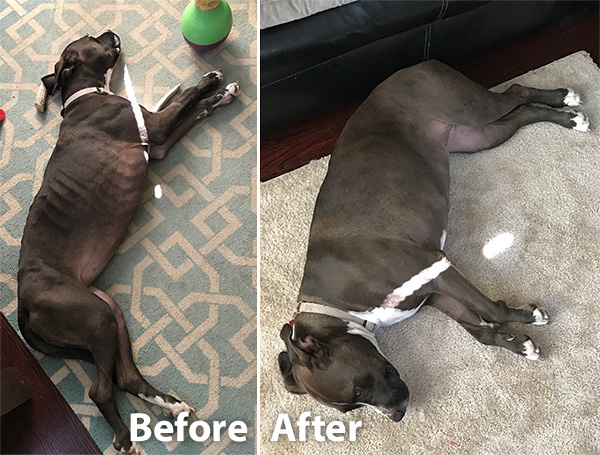 Camilla
"Camilla lost around 25 pounds in a matter of months. Every test was being done and then finally they found the problem! Her pancreas could not produce enzymes, she had EPI. The vet recommended for us to use Pan-tenex and it has worked! She has gained 12 pounds and still has some more weight to gain. If it were not for Pan-tenex she would not be with me right now. Thank you!!"
Jessilyn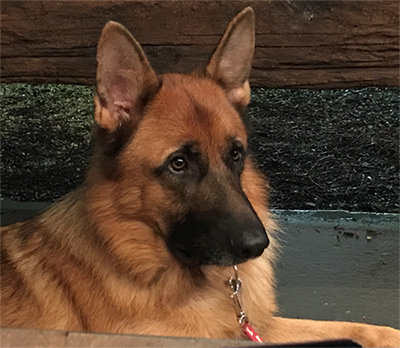 Cal
"My dogs name is Cal. He was diagnosed with EPI in December of 2016. He has always been a picky eater, but got much worse when the generic enzymes were added. I finally tried Pan-tenex, and everything has gotten much better! He's eating, has solid poop, and it's super easy to use. Thank you!"
Leigh Ann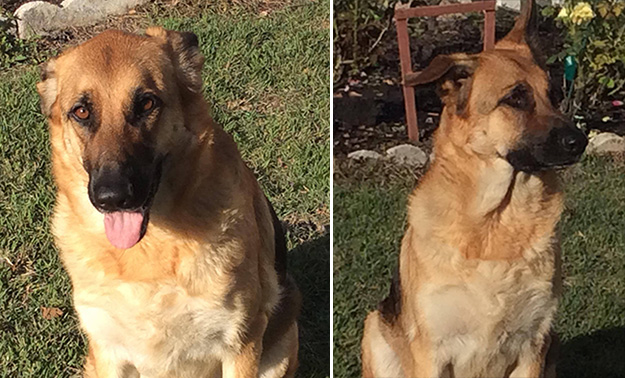 Daisy – 16 Month Update
"It's been over a year now that we have had Daisy on Pan-tenex after trying many other enzyme products for her EPI (Exocrine Pancreatic Insufficiency). The results were immediate for Daisy on Pan-tenex and she has grown into a well sized female German Shepherd. My dog was dying and my vet gave me medicine that worked for Daisy, but the price was not sustainable for me. Do your homework on quality & price and you will find that Pan-tenex is the best product by far. I buy the 4 pack personally to save $30 each time we reorder."
Bradley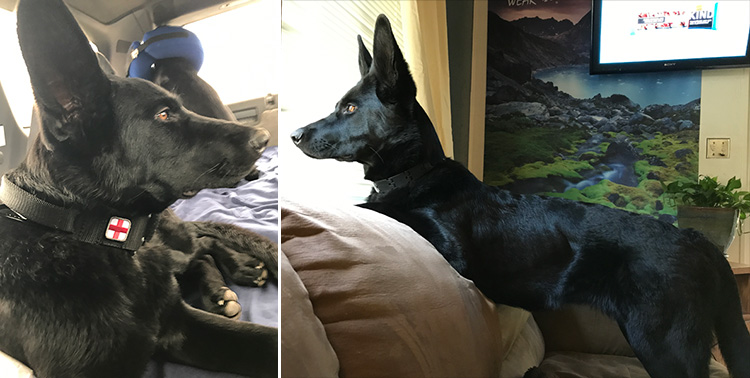 Ava
"Ava has struggled with a sensitive stomach since we got her at 10 weeks. She didn't like the taste of most food or the others made her sick to her stomach. At her 16 weeks at a check-up she was 10 lbs underweight and still not sleeping through the night because her stomach hurt so bad. The vet talked to us about EPI and at 6 months we ordered Pan-tenex. Since then, Ava has gained 15 lbs now and even sleeps through the night. Thanks Pan-tenex!"
Holly and Ty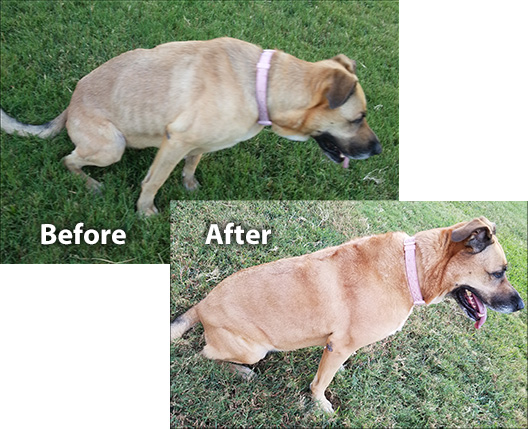 Sophia – One Year Update
"Sophia after 1 year with PAN-TENEX. Her health has improved dramatically and she's a very happy dog. She has an excellent appetite and has regained all the weight she originally lost. This product was a miracle and I will recommend this to all pet owners who are dealing with EPI."
Ruth
Kiva – 2 Year Update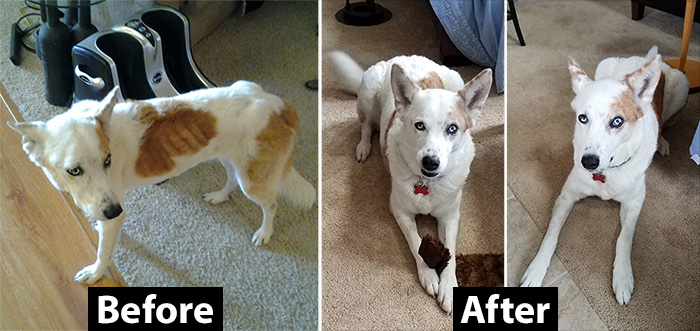 "Kiva became part of the family about 8 months ago when we adopted her from a rescue organization. You can see from her original picture what bad shape she was in. She spent many months on the street trying to survive on her own with EPI, and not doing very well. She was nursed back to health by her wonderful foster Mom, Lee using Pan-tenex. We have continued using Pan-tenex since she joined our family and she is thriving! She waits near the front door as soon as she sees we are up and we walk every day. She plays with my other dog and is enthusiastic about life. Pan-tenex helps her live a normal, healthy life filled with love and affection which she returns to us in spades."
Bill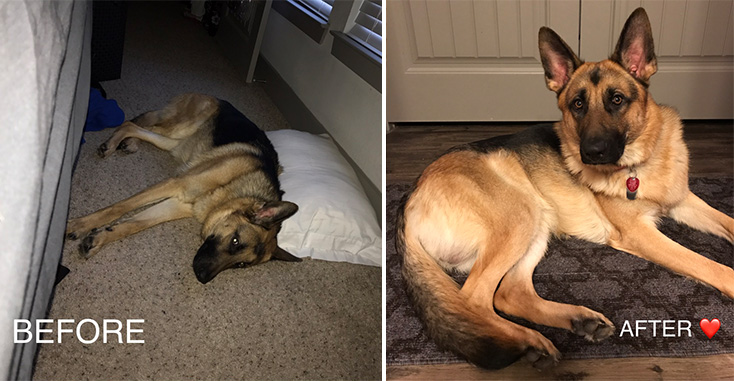 Mowgli
"My GSD named Mowgli was diagnosed when he was 9 months old. We were prescribed very pricey enzymes and we thought to ourselves; how can people possibly afford this! That's when we found Pan-tenex! It has literally saved us and our beautiful boy Mowgli! He's thriving and I definitely give a lot of his success to Pan-tenex! We couldn't be happier with the switch and neither could Mowgli! I definitely recommend Pan-tenex! Not only are they super speedy, but they delivered our enzymes quickly before Hurricane Irma arrived. I'll be forever grateful! Thanks Pan-tenex!"
Mayre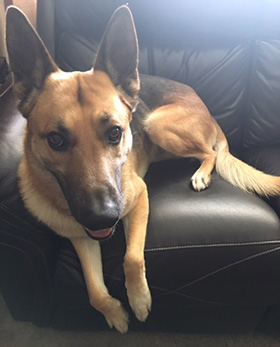 Crosby
"I've used two different brands of enzymes and Pan-tenex is by far the best and the most reasonably priced. Our lovely dog Crosby is finally starting to gain some weight and keep it on. Thank you Pan-tenex!"
LeAnn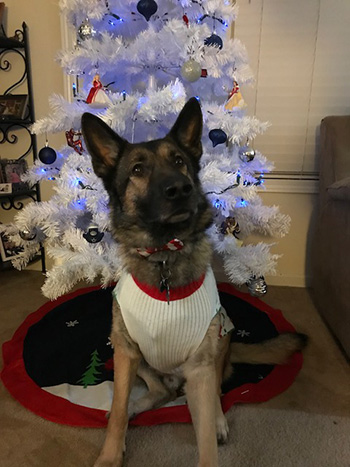 Badger
"About a year ago my dog began to have gastrointestinal issues. I changed him to a grain free diet which seemed to fix the issue at first. He had lost some weight at this time. We went to the vet and he had dropped from 75 to 63 pounds. We were told he had elevated liver enzymes. Over the next several months my dog continually had belly issues, runny and cow pie poos. We were able to see his ribs, spine, and hips by July. We went to another vet and he was a mere 51 pounds. I had done some research and read about EPI. The new vet immediately tested for it. We anxiously waited for the results and they came back positive. The first round of enzymes were from the vet and he urged us to look for more affordable options. I did research and found that Pan-tenex guarantees the levels and they were equivalent to those in the Rx version we were using. We are happy to have him stable and it's gone without a hitch! He was diagnosed in July and here we are in December with a stable, happy boy! We just weighed in at 70 pounds at the vet the other day and he hasn't had cow patty poo or runny poos since his treatment started. Pan-tenex was as smooth a transition as we could have hoped for!"
Stacey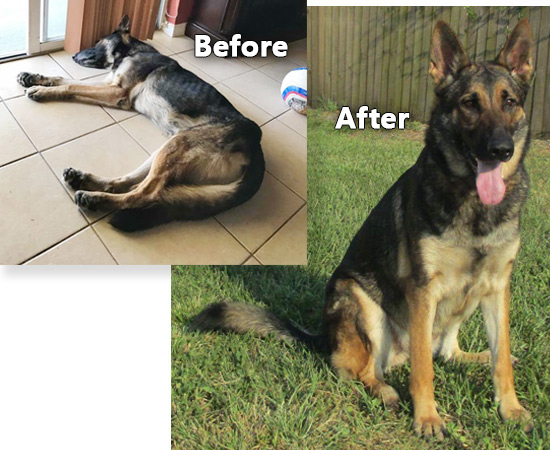 Trooper
"Trooper was diagnosed at age 6 with EPI. Thought it affected them at a younger age so didn't think at his age it would be EPI. Except for the weight loss he didn't have any other symptoms. He's always had a strong appetite and his stools were normal. Once tested, his EPI was confirmed. Started him right away on Rx enzymes, but I knew that in the long run the price was going to be a problem. I researched and found a few alternatives but luckily a friend sent me a link to Pan-tenex. Trooper is now on his second jar and doing great! Not only is it affordable but it also works. Thanks Pan-tenex!!"
Ernie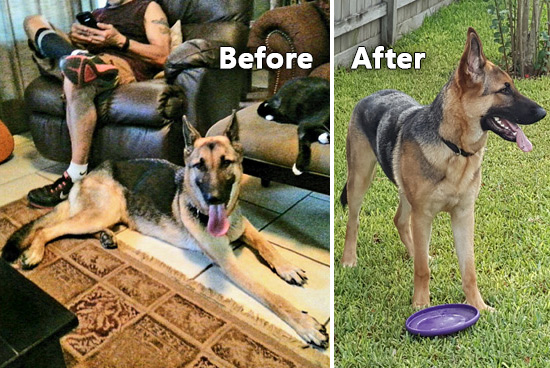 Riley
"Pan-tenex is literally a life saver, Riley and I thank you ever so much!!"
Eddie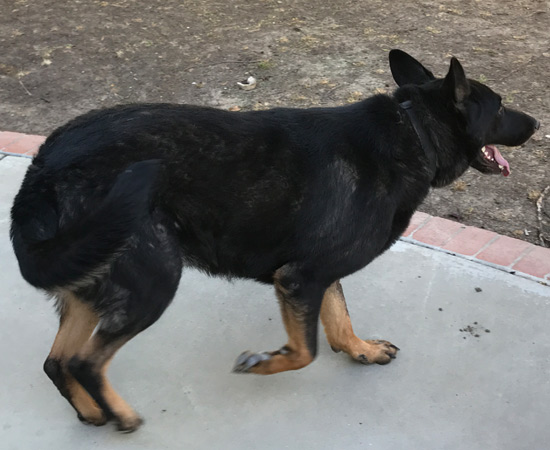 Speedy
"On around October 2016, Speedy started losing weight while simultaneously eating more than was required. His stool was frequently yellowish with undigested foods and this situation persisted for about 3 months until we decided to seek medical help through his Veterinarian. They recommended a 30 day supply of Dog's Pepto Bismol which had no improvement as Speedy's weight dropped from 110 to 78 Lbs. With further testing, he was diagnosed with EPI exocrine pancreatic insufficiency and was prescribed medication that was expensive and ineffective as his symptoms persisted. I decided to conduct research and found Pan-tenex with good happy customers with reviews and ordered it. The product has worked like magic and is both cheaper and effective. All symptoms have ceased as Speedy continues to regain lost weight and is currently back to his usual weight of 111 lbs. We are extremely grateful for having this product and speedy is now leading a normal, steady life. We highly recommend this product PAN-TENEX and it is affordable."
Louis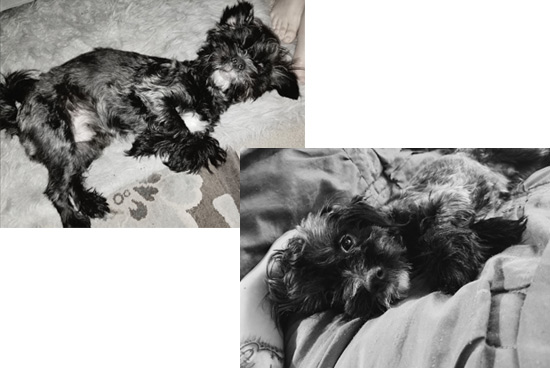 Ziggy
"At eight months old, Ziggy has withered away to just bones and fur. He only slept or was carried. He would blankly stare into nothing draped over my arms. I would often cry watching my baby slowly die before my eyes. No one could figure out what was wrong with him. During Christmas time, my dad did some research and found Pan-tenex. Within less than a month, I had a brand new puppy. Ziggy is now a little over one year old and has more energy than one can imagine. He's playful, spunky, and so precious. Pan-tenex has saved Ziggy's life. I still have a puppy thanks to you guys!"
Sierra
Enzo
"My Enzo!! Before and in progress thanks to Pan-tenex!!
I am a volunteer/foster with a Rescue in Douglasville, GA. Enzo was turned-in to a "rescue" in Alabama. His Petfinder pics were gorgeous and his Bio said he gets along well with small dogs and cats. So great, I thought Enzo was just what I'm looking for to befriend my female GSD and he would fit right into my home.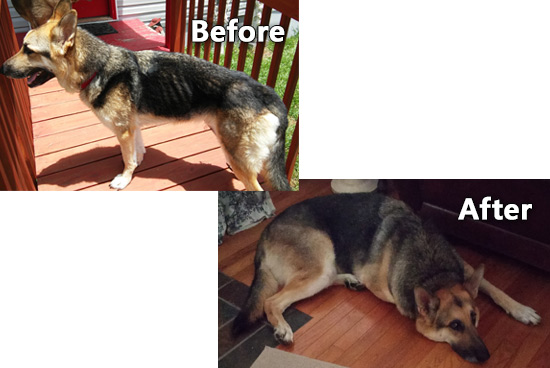 So off we go on a ride with a friend to pick up Enzo from his owner. When this dog came out of her van we were shocked! Skin stretched over his bones. Her answer was; "he was always thin." THIN?? I could not possibly allow this magnificent creature to go back with this Woman. I took Enzo to my vet next day and he weighed 61 pounds – worse than I even thought! My vet does some tests and advises me to put him to sleep. Of course, this is unacceptable. I then contact our rescue's founder Irina and she arranged for him to see a specialist. $1,000.00 later, we had a diagnosis of EPI.
Pan-tenex started helping Enzo from the very first dose and he had normal poop in just a few days. Enzo has gained 27 pounds over the last few weeks and now weighs 92 pounds! Vet says that's good and I should slowly cut back on his food now to keep him close to this weight! Yay! Enzo is such a great addition to my pack! We all love him. No one even minds waiting until his food is ready to get theirs. It is our routine now and it's working! So happy with this product! Thank you!"
Dale

Sansa
"Thanks to Pan-tenex my girl is doing well again! Sansa is a 5 year old EPI dog. She had a super horrible bout of gastritis in March resulting in the loss of 5 pounds that I haven't been able to put back on her until now! After being on Pan-tenex enzymes for 3 weeks, Sansa has put back on the 5 pounds lost and has successfully transitioned to a fresh raw diet from a freeze dried raw diet! Thanks Pan-tenex, for an amazing product!"
Ameera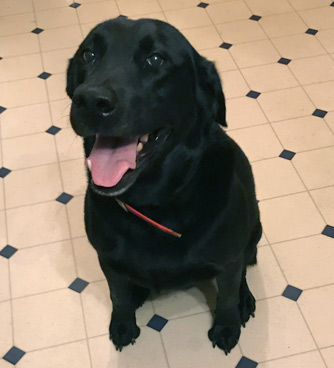 Kiah
"Kiah is a black lab. She started losing weight and her stools were very bad. I took her to the vet and she was diagnosed with EPI. The veterinarian consulted with the veterinarian department at Texas A&M and they gave her very expensive enzymes that I could not afford. Kiah was really losing weight and had horrible stools that made a mess in the backyard and sometimes in the house. She would wake me up at least one or two times in the middle of the night because she had to go outside. A year ago I decided to look online. I ran across this site for Pan-tenex and it was affordable so I gave it a shot. Kiah immediately made improvements and has gained weight almost to the point now where I probably need to put her on a diet. Sometimes I run out before re-ordering more and she goes back to having very runny stools. Very thankful that I found this product and I'm sure Kiah is even happier than I am!"
Karla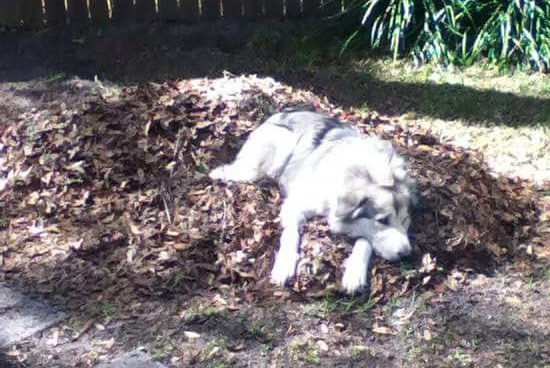 Unole
"A few months ago our beloved Unole became very sick with rapid weight loss. After expensive testing she was diagnosed with EPI. We were looking at losing our family member, as we couldn't afford the enzyme powder the Vet had prescribed. My husband did some research and we found Pan-tenex. He spoke to the representative and we ordered it. After a few days Unole had gained five pounds being on Pan-tenex. After a couple of weeks Unole went from fifty two pounds to seventy pounds as of May 19,2017. With a proper diet and Pan-tenex she is on her way to a healthy life. We are forever grateful to the makers of Pan-tenex and will be lifelong customers."
Linda, Devin and Unole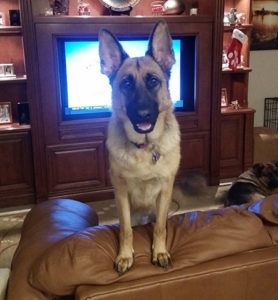 Mya
"Thanks to Pan-tenex our female Shepherd named Mya is on her way to gaining her weight back!  Would highly recommend this product!!"
Joe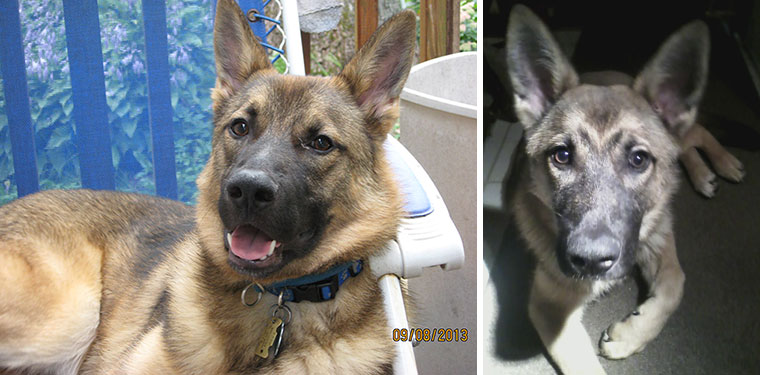 Rascal
"Our dog Rascal, a Norweigan elk hound German Shepherd mix is 4 years old.  Rascal has been on pancreatic enzymes for approximately 3 years.  Before we found Pan-tenex,  we were paying double the price and it was very hard for us to afford it.  Pan-tenex works just as well as the enzymes we purchased from the vet and at half the price!  Thank you for making it easier to maintain our dogs health and well-being."
John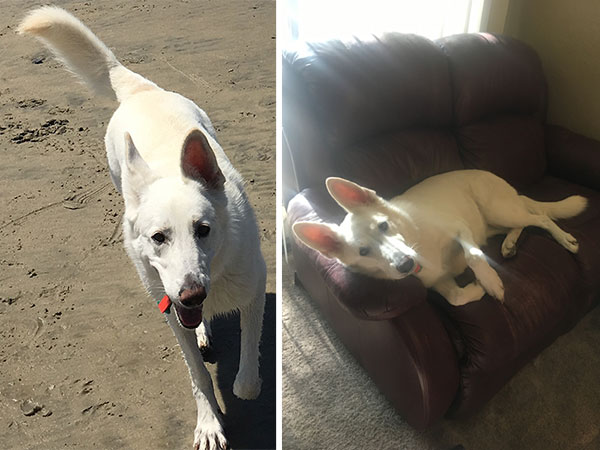 Zarah
"Pan-tenex is a life saver, and I mean that literally. They sell a product that is affordable and high quality. My german shepherd, Zarah, will be able to live a long and happy life.  After using two other enzyme replacements, with no success, I was beginning to lose hope. When I finally found Pan-tenex, I was relieved. Knowing I would have my best friend with me for a long time was the best gift I have ever received. Thanks Pan-tenex for saving Zarah's life."
Joey and Zarah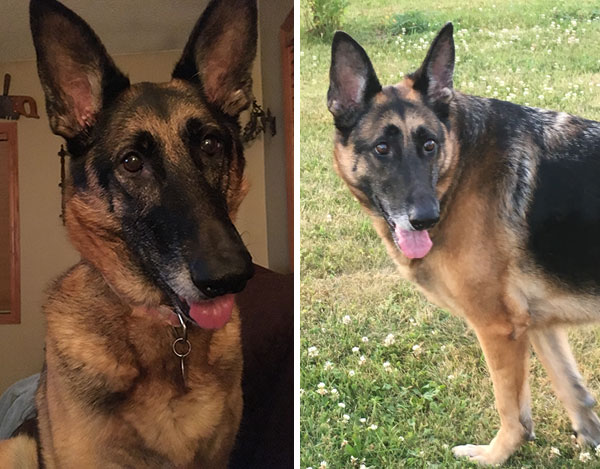 Eva
"Eva is a 7 year old German Shepherd.  After only being on Pan-tenex for a few weeks, we've noticed an increase in energy and some significant weight being added to our girl.  Very thankful for the positive outcome since starting Pan-tenex!"
Misty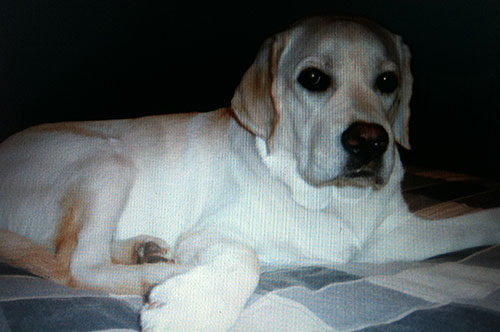 Sonny
"Sonny is my 11 year old labrador.  After a month of diarrhea and not finding anything in all the lab work performed he lost over 10 pounds of weight.  We finally did one more blood test for food absorption and bingo there it was.  Sonny had EPI.  He had no pancreatic enzymes, so I started him on Pan-tenex and after 3 doses he had made a complete turn around.  His stool is now back to normal and has put weight back on."
Patricia

Ana
"Ana has been on Pan-tenex enzymes for two years now. Before Pan-tenex, Ana was lethargic, gassy with unpredictable smelly stools & her coat was dry & brittle.  Now since she has been on Pan-tenex, Ana is full of energy & her coat is full & beautiful again. Also Ana is once again able to compete in Agility & obedience which she loves to do!"
Kathy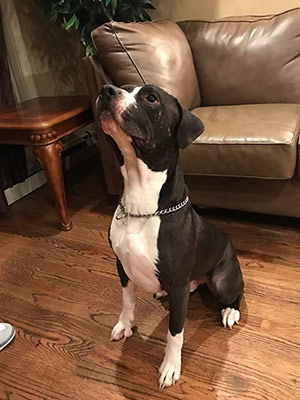 Nero – 8 Month Update
"Nero is our two-year-old Pitbull that I adopted and bottled fed since the age of 3 weeks old.  Six months ago he was diagnosed with EPI, losing over 20% of his body weight.  We have been using Pan-tenex ever since and look at him now!  Nero has managed to put all his weight back on without any complications.  My veterinarian was so impressed, that he put this product on his website.  I highly recommend any pet owner who's put in this position with Canine EPI to use Pan-tenex.  Once again, my sincerest thanks to the representatives of this company.  They have been of great support to us!"
Neil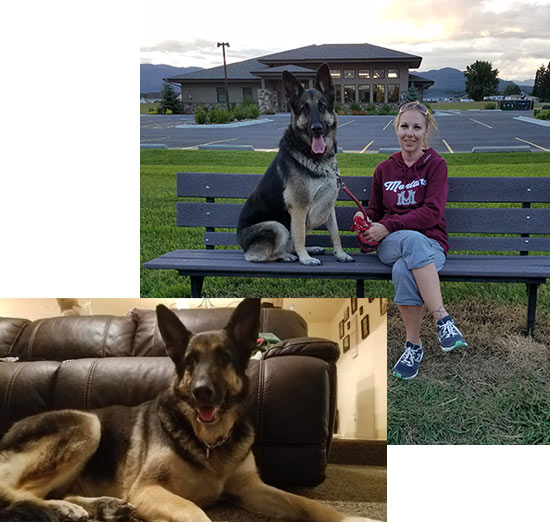 Chloe
"Thank you for making Pan-tenex affordable for my dog Chloe!!! She was so sick and only weighed 80 lbs when we brought her in to be put down. However, the vet said to wait as they thought it might be EPI and it was! The first enzymes the vet gave us were simply too expensive for us to keep Chloe healthy. We then found Pan-tenex and she has been healthy ever since. Pan-tenex has saved her life and Chloe is now 102 lbs!!!"
Dotti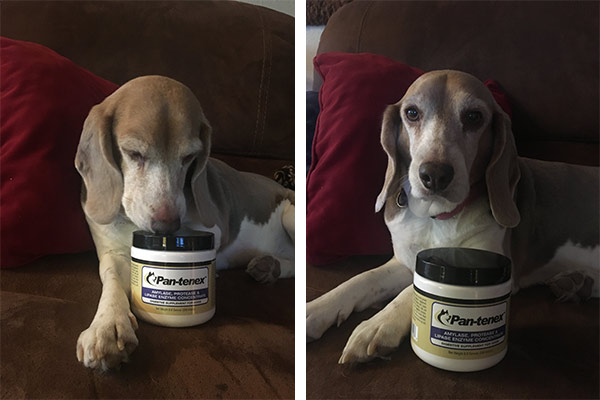 Mia
"My Mia girl suddenly lost 10lbs. This was over 1/3rd of her weight and thought I would lose my best friend. I spent forever researching and tons of money getting tests done with no results. I happened to stumble across some EPI information and as a last resort I purchased Pan-tenex. I figured if it didn't work I was going to lose her either way, but to my surprise it worked! Pan-tenex didn't just work it was a miracle! She has gained back all of her weight and is one happy go lucky dog again. I took her to the vet to get her tested and it was confirmed as being EPI. I now have the option to switch to a prescription but I'm not going anywhere. Pan-tenex saved my girl's life so I am a loyal customer!"
Sarah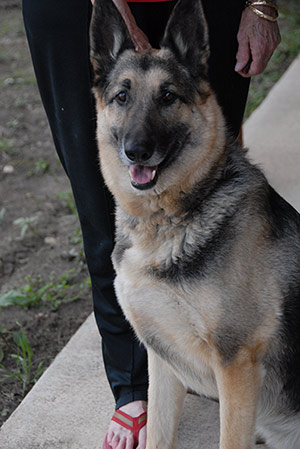 Bravo
"Dear Pan-tenex, I rate this product a high 5 STARs!!!! My 7 year old rescue male German Shepherd, Bravo, started having yellow liquid eliminations after every meal, and although he was eating six cups of food a day he went from 86 pounds when we got him to 61 pounds when he was finally diagnosed with EPI by the 3rd vet I went to searching for the reason. That vet told me to go on line and buy only one brand, the highly expensive one I used for 3 months. It did work, but I could not continue the high cost. I switched to Pan-tenex on my own, and Bravo has continued to gain weight and is now back to his perfect weight! I am so thankful that I could find your product for so much less money… and IT WORKS just as well! We will be on Pan-tenex for the rest of his life.
I am sending a close up of my boy, because the most amazing transformation to me is that his eyes are now so much rounder. When he was losing weight, I noticed that his eyes were stretching against his skull, and taking on an elongated shape. His head was also shrinking as the flesh just melted away. He is now back to the dog I adopted from the GSD rescue two years ago, and I can look into his eyes and see a brightness and joy again! Thank you, thank you!"
Sandra – "Happy owner of really happy Bravo!"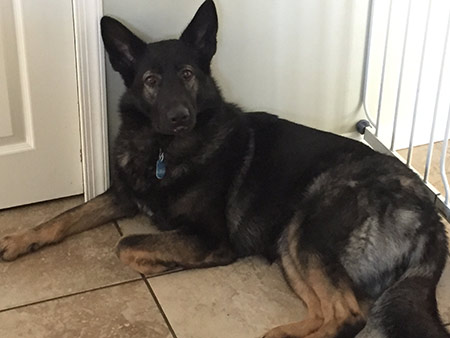 Gypsy
"This is our beautiful Gypsy. At about 18 months old she became ravenously hungry, had runny stools several times a day, and lost 10 pounds in a very short time. She was wasting away in front of our eyes. Prior to that she had been the picture of health. After several vet visits, special food, antibiotics, blood work, and misdiagnoses, we finally learned that she has EPI. The vet's medication was prohibitively expensive, so I started looking for alternatives. That's when I found Pan-tenex. This product works for us, and it won't break the bank. Our beautiful girl is now healthy and happy and about to celebrate her second birthday. Thanks so much, Pan-tenex!"
Courtney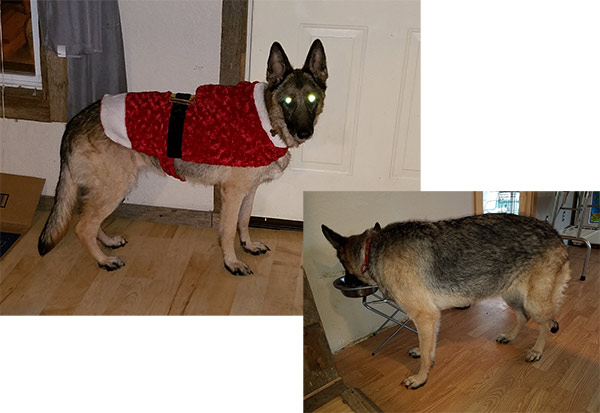 Skye

"This is our German Shepherd, Skye. She is 8 years old and came over from Scotland with my wife. Skye has EPI and my Wife fought for years to keep weight on her. I did some research according to her symptoms and was able to get her fresh pork pancreas for a while and that helped her but then the supply stopped. We were giving her a pill form supplement after that but she lost her weight again among her other problems returning. I finally found Pan-tenex and she is on her second container. This product has been wonderful for her. We feed her the amount directed and she has put her weight back on and all her other symptoms have improved. We are very happy to have found Pan-tenex."
Chad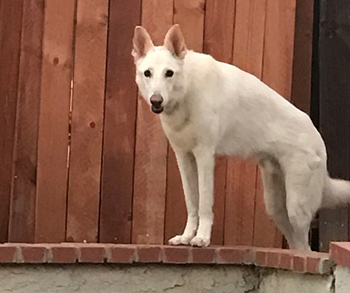 Nanuk
"We had been using a 6x potency enzyme for our GSD Nanuk since he was diagnosed with EPI over three years ago.  After a while, I didn't feel the 6x powder was doing much to help Nanuk, so I decided to look into other options and came across Pan-tenex.  Since then, with the stronger 10x potency in Pan-tenex, he has put on more weight, his stools are a lot better, and we get more product compared to the other brand.  Thanks again!"
Robbie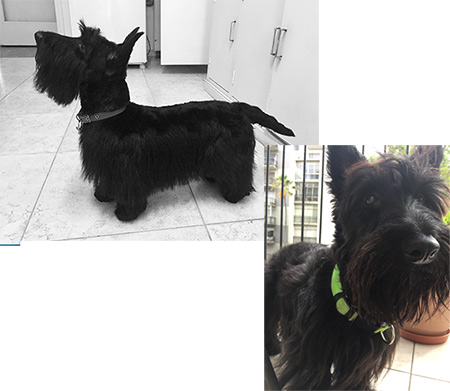 Ralph
"My Scottish terrier "Ralph" was diagnosed with EPI last year after months of chronic diarrhea and weight loss.  I started treating him with Creon since it was the only product found in Uruguay, where I live.  He started gaining weight very slowly (from 5.25 kg to 6.00 kg) but still had some diarrhea episodes.  After doing some research on the internet I found Pan-tenex and decided to give it a try, not only because it was a product made exclusively for dogs but also because it was more economical.  The results were amazing!! He returned to his normal weight (7 kg) after only a month of treatment and never presented diarrhea again.  I strongly recommend this product."
Stefania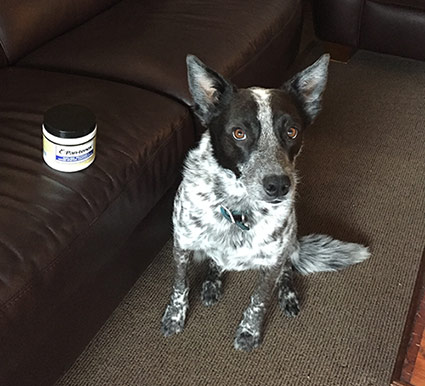 Melvin

"Melvin was diagnosed with EPI this past summer and he was on another enzyme which was just too expensive at about $150.00 per month as he required 1.5 tsps.  So I started to do some research to see if I could find another alternative and came across Pan-tenex.  I started Melvin just before Christmas and he gained 4 lbs in a couple weeks and is now at an ideal weight of 45 lbs.  And the best thing its only costing me $60.00 a month.  I passed this information on to my vet and he is going to start recommending Pan-tenex to his other patients!"
Cindy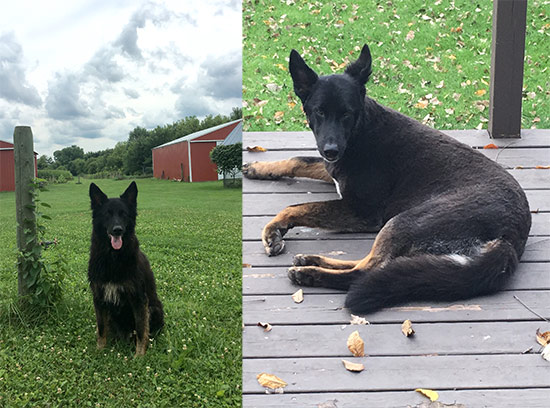 Suki

"Prior to Suki's EPI diagnosis she was hungry all the time even ripping through garbage to eat paper and other refuse.  She kept losing weight in spite of frequent feedings.  The Veterinarian diagnosed Suki with EPI in Feb, 2016 and at that time Suki weighed only 54 lbs.  The Veterinarian suggested we try Pan-tenex.  Suki started gaining all her weight back and is now 73 lbs! I mistakenly tried switching her to another product that I bought at a local pet store and Suki started ripping through garbage, eating tissue and was always hungry.  I quickly switched back to Pan-tenex which solved the problem immediately.  Thank you!"
Monica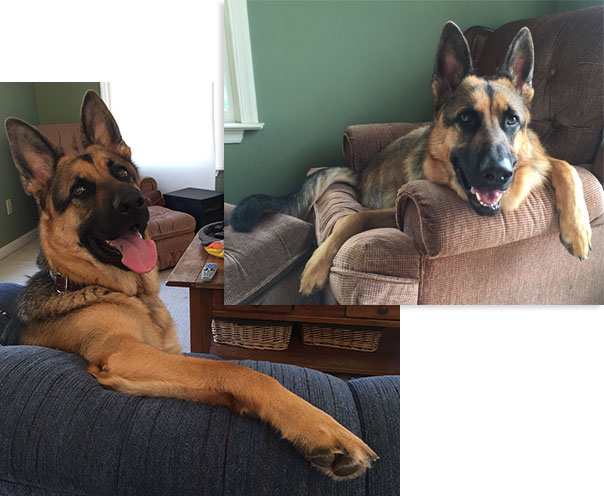 Chesney – 1 Year Update
"Chesney has been on Pan-tenex over a year now and we couldn't have asked for a better product or nicer people to deal with.  If it wasn't for Pan-tenex we would not have been able to afford Chesney's EPI treatment compared to the meds our Vet wanted us to purchase.  Thank you so much from the bottom of my heart.  Everyone who is dealing with canine EPI should please try Pan-tenex & inform your vet about this product."
Colleen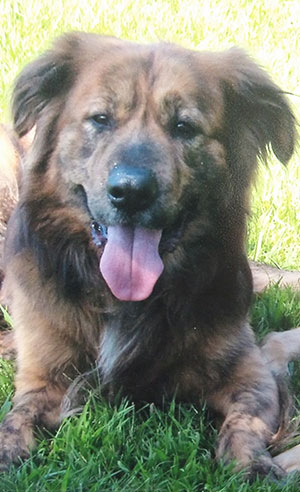 Judge

"Our 85 lb golden retriever mix, Judge, started to lose weight although he was eating his meals regularly.  His stools were runny, yellowish in color and full of undigested food.  He was also losing hair and had scabs all over his body from scratching.  After being taken to the vet we were told he tested positive for Lyme disease and he was then put on a 30 day medication regimen.  The vet did bloodwork and it was determined that my dog had high cholesterol, but low in Lipase, Albumin to Globulin ratio, blood urea nitrogen and Albumin.  He was also anemic.  The vet told us that a lot of these issues were probably the result of malnutrition.  He continued to lose weight and hair but the vet wanted to wait until he was through with his medication for the Lyme before tackling the weight/hair loss.  He also told us the runny stool and loss of appetite could be due to the medication which made no sense to us because our dog did not lack an appetite; in fact, he was eating like he was starving every time we gave him food.  My husband started to do his own research on the symptoms Judge was exhibiting and found that all of his symptoms seemed to point to EPI.  We then looked into the various digestive enzymes available and came upon Pan-tenex.  We read the ingredients, did research on each of them and decided to give it a try.  My dog at this point was down to 54 lbs from 85 lbs!  He was weak and under nourished although he ate 2 times a day.  The first thing we noticed after just 2 days on the Pan-tenex was a change in the consistency and color of his stool.  There was no undigested food to be seen.  Within about a week and a half, his stool was solid and he put on about 6 pounds.  His eyes looked brighter and he was more energetic.  After one container of Pan-Tenex he is now 80 lbs, his hair has grown back and his skin has cleared up.  I fully support this product as I have seen it work and I will continue to use it.  Thank you Pan-tenex, your product has saved our dog!!!"
Anna

Darcy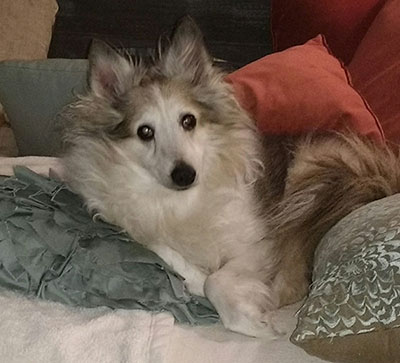 "Over a year ago Darcy started having chronic diarrhea.  My vet at the time believed he had pancreatitis and we treated him with traditional veterinary medicine.  He would get better but then relapse.  Many trips to the vet, lots of prescriptions, diet changes, stress, financial burden, and my poor little guy just kept feeling terrible.  I switched vets hoping to find a different path for him.  She was uncertain he truly had pancreatitis and we tried some more holistic approaches.  We tried a couple of different enzymes along with supplements, more diet changes, but still no results that stuck.  Another vet at the clinic did some research and found Pan-tenex and recommended we give it a try.  Within a week, his diarrhea stopped, which had happened before, but he also enjoyed his food more unlike with the other enzymes made him very picky.  Now, two months later, he has been diarrhea-free and just seems to feel better overall.  A very limited diet and Pan-tenex seems to be doing the trick and we are hopeful that it will continue.  I have been so worried about him, watching him continue to get sicker and sicker, believing he may not be around much longer.  But I have hope now that he will continue to improve and be around for a long time. Thank you!"
Mary Ann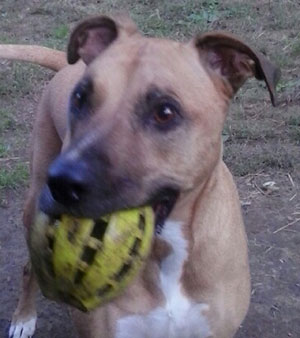 Kayla

"Thank you so much for your amazing product!  I was using a more expensive product from another company and was truly astounded to find a similar high-quality product that truly helps our precious dog.  Kayla is such an important part of our lives and before her diagnosis we were so afraid of losing her without discovering her ailment.  Now that we trust Pan-tenex we are happy to say that Kayla will continue to have a wonderful and happy life.  Thank you Pan-tenex!"
Evelyn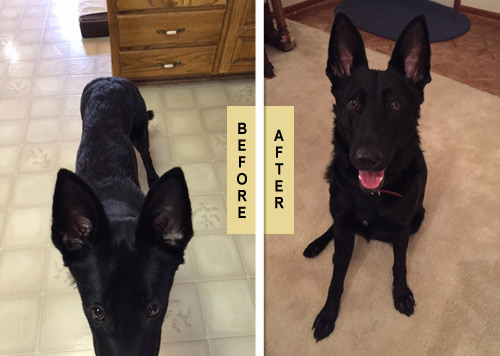 Emilia – 11 Month Update
"Emilia has been using Pan-tenex for over 11 months and was first diagnosed with EPI over a year ago at 5 months old.  I was desperate to find an affordable product that treated EPI. I tried both 6x and 8x products claiming to be of quality and high potency, but Emilia struggled to gain weight on these products.  She continued to have loose stools several times a day.  So I continued to search for a higher quality product that was still affordable and I thankfully found Pan-tenex.  Emilia has gone from 36 lbs to 65 lbs with two (unrelated) surgeries during this time, which would have caused any dog to lose a lot of weight.  Emilia not only maintained her weight, but recovered quickly and has never been healthier since she has been on the Pan-tenex!  Her stools are also regulated with normal size, frequency and consistency.  I feel that Pan-tenex has made a very noticeable difference in her overall health.  Pan-tenex is a high quality product at an affordable price!"
Kim, Emilia, & the Pack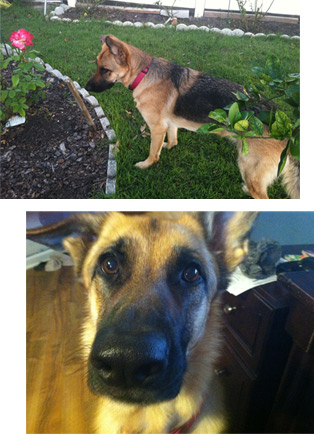 Daisy
"In my opinion only two things matter when choosing the correct pancreatic enzyme product for your EPI dog.  The most important thing is does it work?  At first, I purchased an expensive product from my Vet that worked well for Daisy, but not for my wallet.  Which brings me to the second most important thing, can you afford it?  What good is an EPI product if you cannot afford it correct?  Daisy is only 20 months old, and I realized I could not sustain the high cost of her medicine from the Vet for 8-10 more years.  That's when after extensive research and searching, I found Pan-tenex.  It meets both my requirements, it works extremely well and it is sustainable for my wallet.  This is the highest strength product for the best price.  My Daisy gained 15 pounds in the first month she was on this product!  Thank you!"
Brad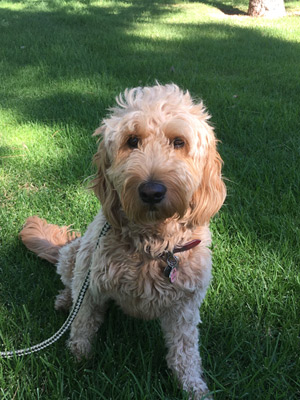 Lily
"Lily is our 3 yr old Golden Doodle and had it not been for Pan-tenex we would have lost her!  It took over a year to find a vet who would finally diagnose her with EPI (exocrine pancreatic insufficiency).  Basically anything she ate went straight through her, by the time they  figured it out she was literally a walking skeleton.  She was starving to death, started eating her own poop, was listless and if we tried to walk her she would just lay down because she had no energy.  Pan-tenex arrived within 3 days just like they promised and by Sunday the diarrhea was gone and we noticed an immediate improvement in her overall energy level.  Now she has a bounce back in her step when walking and can go the distance.  For us, Pan-tenex has saved Lily's life!"
Pam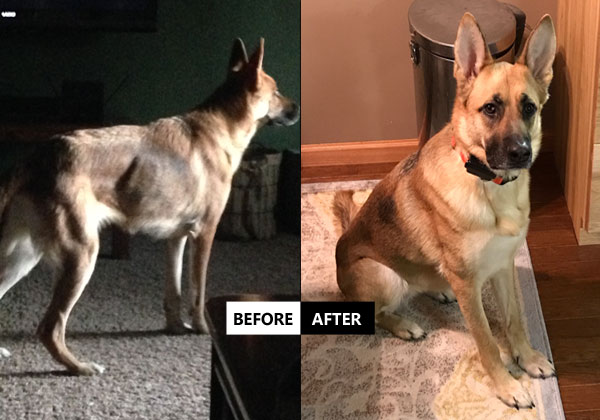 Hazel
"I was desperate to find answers for why my girl Hazel was losing so much weight!  The vet was running out of tests, and against my better judgement sought out help from the depths of the internet.  Through Facebook and the German Shepherd dog community we came to the conclusion that she was suffering from EPI.  Tests confirmed the diagnosis.  And also through the plea for help someone had suggested that I look into Pan-tenex rather than using the medication from the Vet.  Again, being skeptical of strangers on the internet I took a good hard look into Pan-tenex and the reviews here and other sources before signing up.  And I have to say I am tremendously glad I did!!  As you can see from the before and after pictures of Hazel, she was really in trouble with her weight.  Pan-tenex has turned this whole thing around!!  She used to refuse to eat knowing it would make her sick, but now she sits impatiently waiting for me to put that bowl of food down for her!  Thank you Pan-tenex, you have a customer for life!"
Nick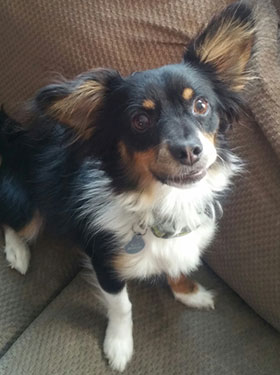 Ellie
"THANK YOU PAN-TENEX!!!  Our dog Ellie has never looked better.  Within the first week of using Pan-tenex we could already see an improvement in our sweet furbaby.  She has regained the weight and she's as happy as she can be.  We are so thankful we found Pan-tenex.  It has saved our girl and saved us hundreds at the vet!"
Angie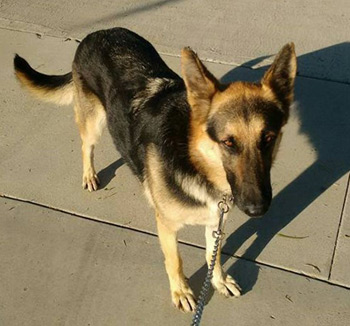 Liberty
"Pan-tenex saved my Dad's dog Liberty! My dad had surgery and I went out to help him. While there, I took care of Liberty. She was not doing well and I noticed that something was very wrong with her. She was very skinny and in bad shape. She was seen by a vet and everything was ruled out through tests. The vet said she could have an issue digesting her food which made sense. I researched symptoms that she was having and realized that she was suffering from EPI. She had all of the symptoms and she is a German Shepard. The vet agreed with me. I researched different products and found your website. I ordered the product. After over 6 months of being on the product Liberty gained all of her weight back! She is a healthy and happy dog again! What an amazing blessing! Thank you!"
Dawn & Thomas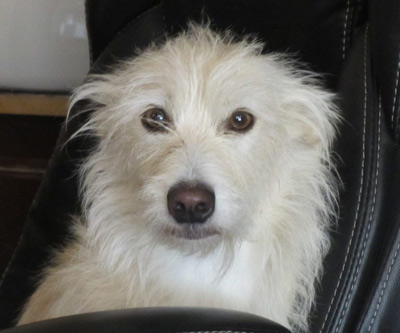 Fergus
"Thank you so much for creating such a wonderful product. Our much beloved Fergus was diagnosed with EPI. The vet had prescribed a plant based enzyme that was not working. After 4 months and seeing Fergus gain only 1 pound I switched to Pan-tenex. I can't believe how quickly he started gaining weight. After only six weeks he is almost at his normal weight. Pan-tenex has definitely been a life saver for Fergus."
Janice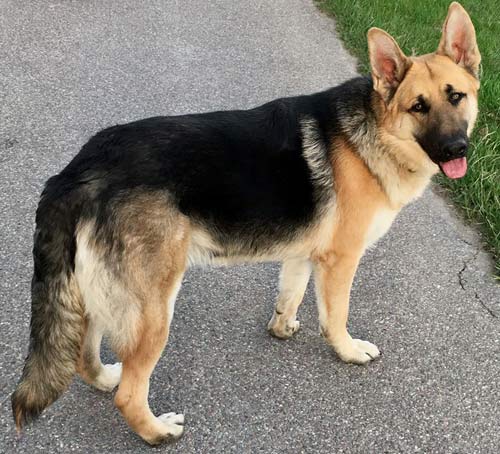 Max
"My German Shepherd, Max, was in bad shape about a month ago. He was extremely underweight, lethargic, cranky and frankly, I thought we were going to lose him.  We took him to our vet where she put him on antibiotics along with other meds and she was certain he had EPI.  We brought him home where I tried a few different enzyme products without success.  I was thinking we were going to have to put our beautiful Max down because we didn't want him to suffer and we were watching him starve – literally starve – to death.  When I came across the Pan-tenex website I was skeptical at first because I had read similar promises from other products – BUT I am so glad I gave it a try!  Pan-tenex has saved our German Shepherd's life and we couldn't be more grateful!!  This product is a miracle!  It is just a few weeks after I ordered your product and our dog has steadily gained weight, has regained his energy, stopped eating his own poop, is so happy and fun-loving.  He now greets people with a wagging tail instead of a nasty growl, and seems so much more relaxed in general.  He is a COMPLETELY different dog – the one we knew in the first place.  Thank you Pan-tenex!"
Jennifer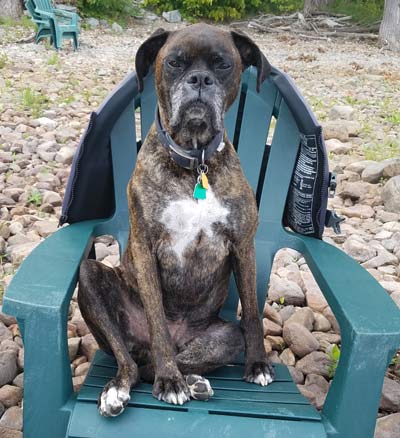 Banter
"Our dog Banter has been using enzymes for years now.  However, Pan-tenex is best product we have purchased so far.  Plus it is offered at the best price.  We are very happy to have found Pan-tenex!"
Debbie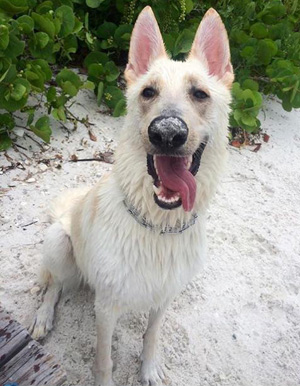 Zero
"My German Shepherd (Zero) became very ill and my wife and I couldn't figure out why.  He lost almost 20lbs in one month and was skin and bones.  He was diagnosed with EPI and the Vet recommended other powdered products that were much more expensive.  I did my research and stumbled across Pan-tenex.  It was less expensive and had a solid website that sold me on their product.  I took a leap of faith, and it saved my doggie best friends life.  Because of the 10x product potency, we only need a teaspoon at a time, which is half of what the vet suggested.  Zero now has healthy/solid poops and has gained 10 pounds back in a month WITHOUT having to change his food (Taste of the wild boar, 14% fat).  The vet is amazed and my family is most grateful for this wonderful product."
Robert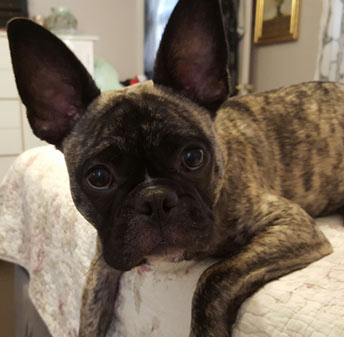 Georgie
"My Boston Terrier Mix has EPI.  Pan-tenex has saved Georgie's life and has cured his constant diarrhea.  Our vet said he usually sees EPI in German Shepherds, but this was a first for him.  I can't tell you enough how Pan-tenex saves dog's lives.  We are a customer for Life!"
Karen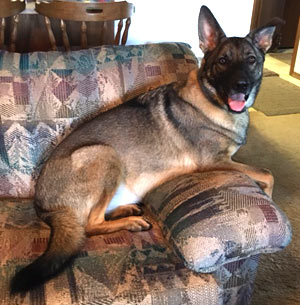 Jazzy
"You saved my dog Jazzy's life, because I could not afford the $150 a week for the same product from my vet.  When I found Pan-tenex it was amazing!  It worked right away and the cost is very affordable.  It was a lifesaver for both of us.  Thank you so much!!"
Susan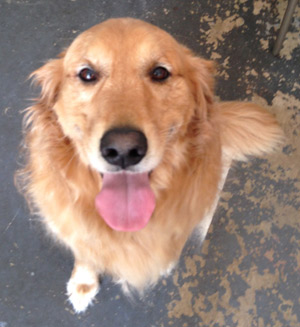 Hunter
"I love Pan-tenex!!!  It has saved my dog Hunter's life!!!  It is the same thing I was getting from my veterinarian, but only 1/3 of the price!  We've been using this product going on 6 months now and it's made such a difference in our fur baby!"
Amy
Gemma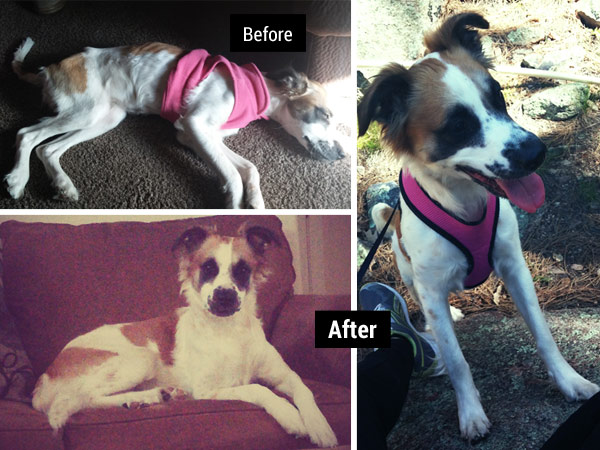 "This is my baby girl Gemma. She is my everything seeing as I am unable to have babies of my own. When Gemma was six months old I started to notice her loose stools and food aggressive behavior. I became fearful and tried everything from pumpkin to raw diets and even NO FOOD for days to clean out her system (this is what her vet recommended) and nothing I did was working. She became fragile and skinny and even having seizures. Friends and family were telling me that I was selfish for keeping her alive because she was suffering, but I just knew in my heart there had to be an answer. She was my baby and I was not about to throw in the towel and have her put down. I stayed up all night searching for answers and I read about EPI and it just clicked – that's it! I took this information to her vet where he told me I was crazy and to just let her go. I cried and cried for days. Not to mention I had just lost my job, so how was I to care for her? A few days later a wonderful lady donated some enzymes to me to try and they seemed to work at first. She was gaining some weight and more active, but still very food aggressive and always eating the most random things. These other enzymes were also out of my price range and I was only buying sample packs that lasted a few days just to get by. Then I found Pan-tenex! I read through their website and knew we had to give this a shot. I must say this was the best purchase I have ever made! Gemma has gained about 20 pounds in the last month, is no longer food aggressive and she sleeps through the night without waking up five times to go potty. Thank you so much for saving my baby's life!!!"
Destiny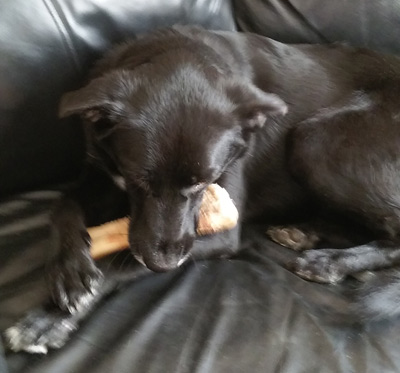 Casey
"I took my dog Casey to a lot of vets and they all told me to put her down because the enzymes she needed for EPI were simply too expensive. I couldn't do it so my son Kevin went on-line and found Pan-tenex which has absolutely saved her life. Casey is now happy and healthy and we can't thank you enough! I can't stand to think if we had not found Pan-tenex and had to put our Casey down. She is so much better now."
Wanda and Kevin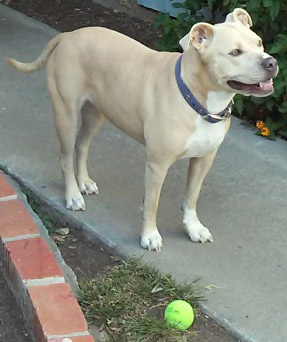 Jemma
"Our Pit Bull Jemma has had EPI for 4 years now.  It was very rough in the beginning and we almost had to put her down when she went from 65 pounds down to a low of 25 pounds.  We finally got her stabilized and had been using a generic 8x enzyme, but something still wasn't right.  We and our veterinarian felt Jemma should be doing better and we decided to search for a stronger enzyme product.  That is when we found Pan-tenex.  I sent an inquiry via their website and one of the company owners called me right away.  He took his time and thoroughly explained the benefits of their 10x potency product and the quality behind it.
Well, he was certainly correct.  It's been only 6 weeks now and these enzymes are the best by far that we have tried.  Our Jemma is doing much better now using Pan-tenex."
George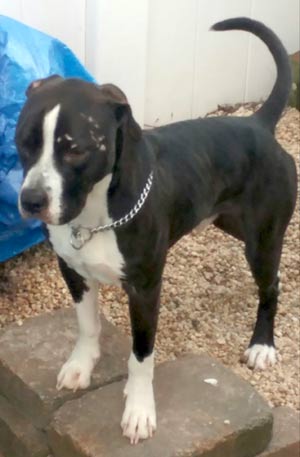 Nero
"Nero is an 18 month old Pit Bull that I rescued and bottle-fed till he was 4 weeks old. He was just diagnosed with EPI last month and in that time lost one-third of his body weight (about 21 pounds). I thought for sure we'd have to put him down. I spent a few thousand dollars trying to figure out what was wrong with him, until we finally found a gastro veterinarian who specialized in this disease. He definitely saved his life, but in the interim prescribed very expensive enzymes that cost approx. $180 a month.
I searched vigorously until I thankfully found Pan-tenex. I requested some information via email on their website and left my phone number. Within minutes I received a phone call from the owner of the company. He was more than informative and provided solid information on their product to share with our veterinarian. Shipping was fast and I was able to put my dog on their product right away. Nero has thrived ever since putting on almost 9 pounds in less than two weeks. I brought Nero back to the veterinarian for a follow up and he could not believe the results & encouraged me to continue using Pan-tenex. I received a phone call from the owner again over that weekend just to see how Nero was doing on their product. That in itself should demonstrate the dedication and the great product they have developed. I would personally like to thank him once again for his advice and his concerns for my dog. We greatly appreciate it! "
Neil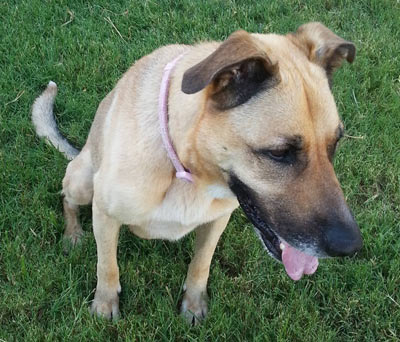 Sophia
"Sophia is our 5 year old German Sheppard and Pit Bull mix.  She was diagnosed with EPI 2 months ago. Before her diagnosis, she lost almost 40 lbs and was very-very sick.  She was always having diarrhea and pooping 3-5 times a day.
Ever since we put her on a special diet plus Pan-tenex enzymes she has gained over 20 lbs and her stools have hardened.  We have seen a big difference and she is now our happy dog again.  Thank you so much for your wonderful product."
Ruth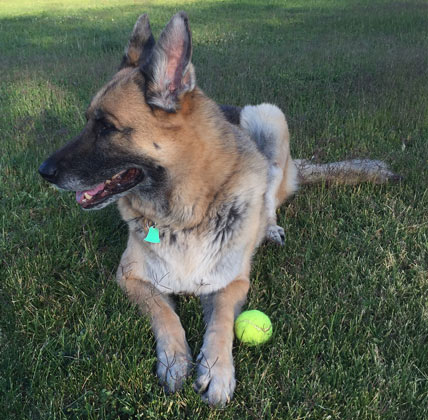 Gigi
"Gigi is our 11 & 1/2 year old German Shepherd who has EPI.  She has been on Pan-tenex for several months now and is doing great with your product."
Pierre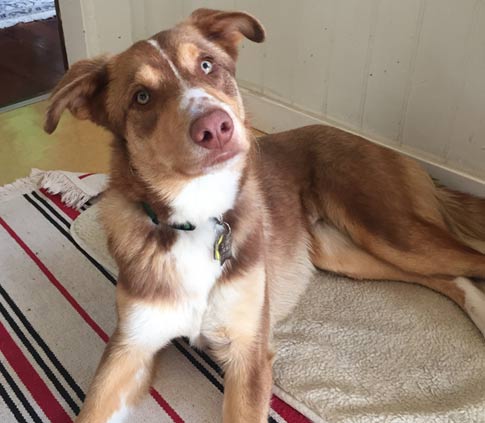 Pim
"We adopted our dog who was rescued from the streets of Merced, CA by the San Francisco SPCA. His name is Pim.  After less than a month being with us, he lost weight and ended up being just skin and bones.  A test performed by our vet confirmed EPI.  We started him on Pan-tenex and within only a few days he was able to digest food and started gaining weight again.  Thank you!"
Olof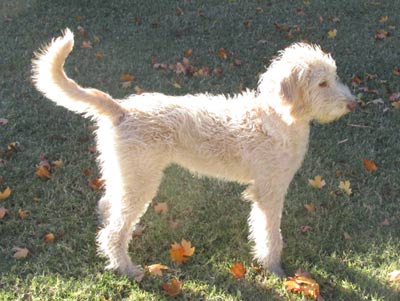 Ginger
"It has been a month since we've added Pan-tenex to Ginger's diet.  She has gained 12 pounds in this period of time and is back to her old self.
She has lots of energy and is currently exhibiting no EPI symptoms."
Neil
Chesney
"Chesney went from 65 lbs to 75 lbs and started putting weight back on right away with this product.  Thank you, you guys are awesome!  Love your company, and I thank God that I found you….life savers!"
Colleen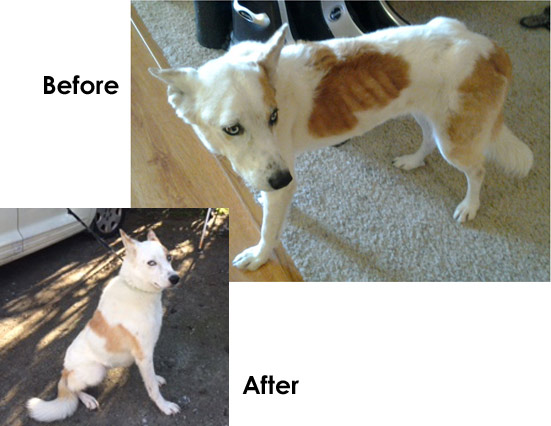 Kiva
"I have a beautiful rescue named Kiva who has Exocrine Pancreatic Insufficiency and we were about to run out of her medicine which was too expensive to maintain.  My vet had suggested we should get something stronger than the generic enzymes we were using so I went online and did extensive research on multiple sites which were ALL quite pricey. I have been worried how we could afford to get her the proper treatment until we came across Pan-tenex.
Kiva was weighed the previous Sunday before starting Pan-tenex and she weighed 38 lbs.  When I weighed her this Sunday my goal was for 40, well she surpassed that and weighed in at 45 lbs!  She's currently 47 and my ultimate goal for her is to reach 60 lbs. I feel that Pan-tenex is saving her life. I was worried about the future because I knew neither I or the rescue could afford all the costs until I found out about Pan-tenex – and it was a miracle!
Many thanks for offering a high quality product at an affordable price!"
Lee
Emilia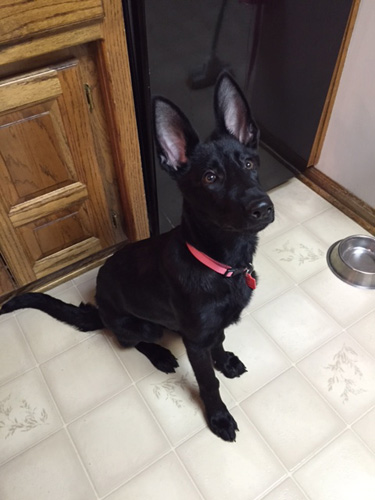 "I took Emilia in to foster from a rescue at about 3 months old. She was pooping all the time and we didn't know if it was just that puppy behavior. She eventually started pooping blood and got very sick. She was rushed to the E.R. where it was believed she had EPI. She is a very happy dog and I knew I couldn't give up on her. EPI has definitely been a journey. It is one of the hardest things I've dealt with, as there is no one to provide the answers to this condition. When I first found out that Emilia had EPI and began to research the cost that pharmaceutical companies charged for 8 oz. of enzymes (average $89),  I knew it would not be affordable for me as a foster and potential adopter (and owner of two other rescue dogs) nor would anyone want to take that on. I began to read all I could about this condition and began researching more affordable treatments when I found Pan-tenex.
I started her on the Pan-tenex on Friday evening of the 12th. There was a noticeable difference after the first three days. First, I noticed right away that the Pan-tenex had more of a pork/meat smell to it and it was not powdery or dusty at all. In the three days, I notice Emilia's stool was a good medium brown as opposed to the darker browns I am used to seeing. I usually keep her on a low maintenance dose of the Tylosin, so I remove it some days just to see how she does. I have seen more of a consistent good medium brown color, so much so I can't tell the difference with my other dog. Most people would think "poop talk" is crazy, but that's a big deal in the EPI world! I've also noticed that the volume of stool is a lot less, which is fantastic! That alone is huge. She has also gone less frequently from an average of four-five times a day to an average of just three. I could swear she is already gaining weight as her ribs are not as prominent and I have already seen so much improvement with your product.
I can't thank you enough for Pan-tenex, and wonder how she would have progressed had I found it sooner. I feel good about her improvement and am more confident I don't have to worry about her losing weight again. Emilia truly has been an inspiration to me, and maybe she can inspire others."
Kim
Bear
"Our EPI German Shepherd is named Bear and he's been on Pan-tenex for 6 months and is doing great.  Absolutely love this product.  Same great ingredients, but much more affordable."
James
"Casey came to us in April, emaciated and leaving muddy poos all over the yard.  We started her on Pan-tenex and she is a much happier girl.  She gets the enzymes with every meal (3x a day) and has gained over 5 pounds so far and her stools are a more natural shape.  Thank you for making Pan-tenex so affordable!"
Vicki
"We decided to try Pan-tenex after our veterinarian suggested that we find a stronger pancreatic enzyme for our EPI German Shepherd who wasn't responding well enough to the 6x and 8x generic enzymes we were using. After only a couple days his stools were much fuller and he seems to be doing better overall which shows the enzymes are working. The product appears professionally made which is very refreshing and it's even more affordable compared to less potent products we were trying. We have his B12 & SIBO in check, so this was the missing component we needed. We will definitely be using this product moving forward."
Jake
"My female boxer has been severely underweight for over a year. I took her to 3 different veterinarians . They all said they don't know what's wrong and charged me $350 each while saying it. She was literally wasting away. I did some online research and spoke to other Boxer owners. I came up with pancreatitis within 8 days of her using your product she was back to a very healthy weight and full of energy again. Truly Amazing!!"
AC